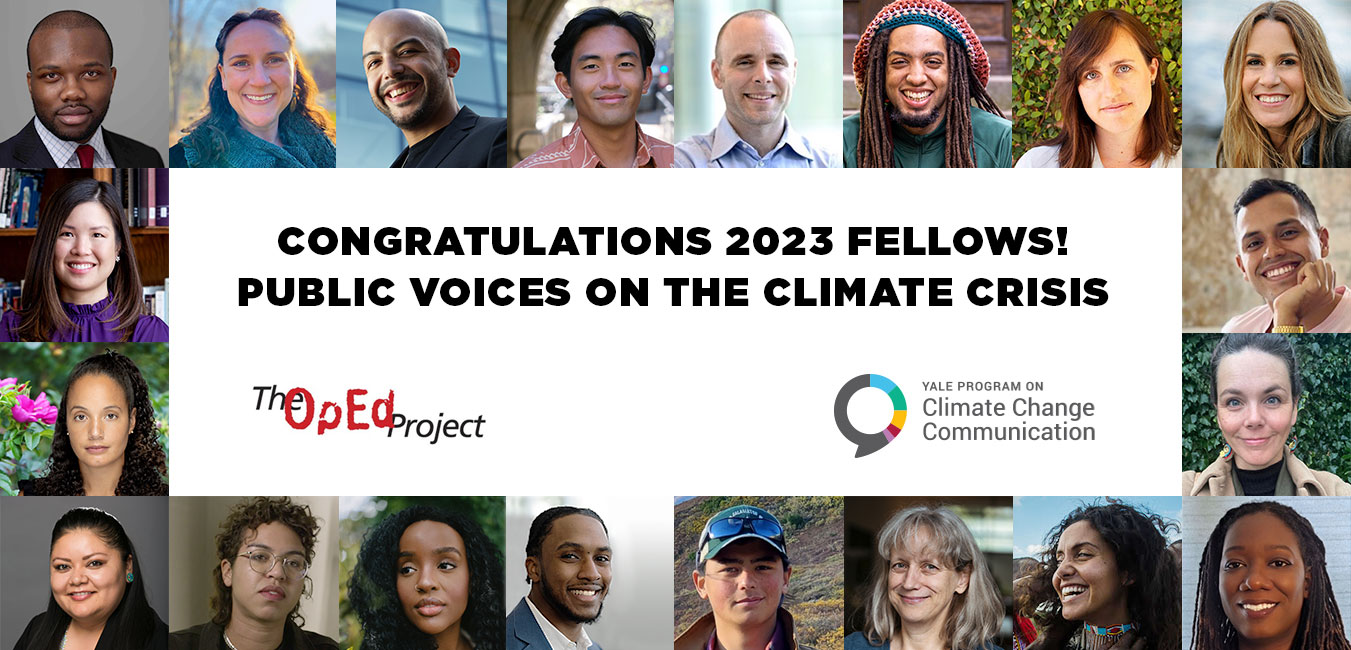 The Public Voices Fellowship on the Climate Crisis was launched in 2020 as a collaboration between the YPCCC, The OpEd Project, and Ann MacDougall.  It is dedicated to developing diverse thought leadership addressing climate change. Those who are most impacted by the uneven effects of global warming are also the individuals who are most likely to see new solutions and envision a more just future. Based on this reality, the fellowship is offered to 20 exceptional individuals each year, most of whom are women and people of color. Now in its fourth year, the fellowship's partners are YPCCC and the OpEd Project.
Fellows are provided with extraordinary support, leadership skills and knowledge to ensure their ideas shape the greatest and most urgent conversation of our age. They are immersed in a curriculum that explores concepts of leadership, power, and action in an unfair world. All fellows commit to publishing at least two written pieces of thought leadership (and hopefully many more) during the course of their fellowship. 
This Fellowship is part of The OpEd Project's national Public Voices initiative to change who writes history. It is also part of YPCCC's work to diversify and amplify the voices working to build public and political will for climate change action.
You can learn more about the four cohorts here:
The inaugural class of

2020

The second cohort of fellows, announced in April 2021, can be found here.
The third cohort of fellows, announced in April 2022, can be found here.
The fourth cohort of fellows, announced in April 2023, can be found here.
The application deadline for the 2023 fellowship was February 14, 2023.  If you would like to learn about similar opportunities in the future, please subscribe to our email list at the bottom of this page on the right.
Selected thought leadership by the 2023 fellows:
Can Grad Students Defend Us Against Misinformation?, Inside Higher Ed, November 21, 2023
Sustainable Fashion Is a Farce Without Virtual Try-Ons, Bloomberg, November 18, 2023
K-12 Schools Can Be Major Players in the Clean Energy Transition, The Progressive Magazine, September 22, 2023
How to Honor the Environmental Legacy of the March on Washington, Common Dreams, August 28, 2023
We Need More Than Lip Services in Polluted Cities. We Need To Shut Down Fossil Fuels, The Messenger, August 27, 2023
Helping Students Deal With Disasters, Inside Higher Ed, August 1, 2023
Climate change is worsening the world's refugee crisis. Here's one way leaders can help, Los Angeles Times, July 7, 2023
Building the Next Pro-Life Movement, Newsweek, June 22, 2023
Commentary: On climate change, Youngkin fails the moral leadership test, The Richmond Times-Dispatch, June 13, 2023
New science on ecological justice demands united response from US Catholics, National Catholic Reporter, June 8, 2023
Private jets are a climate disaster. Hanscom shouldn't allow more, WBUR, June 5, 2023
Pacific Islanders are too often excluded from Asian American and Pacific Islander Heritage Month, The Philadelphia Inquirer, June 2, 2023
It's Time: Ecological Restoration Beyond the Trees, New Thinking, May 29, 2023
Selected thought leadership by the 2022 fellows:
An essay is in the Not Too Late anthology, April 2023
A push for corporate climate disclosures in California could influence rest of U.S., NPR Marketplace, March 2023
Can I Get a Climate Witness?, Seattle Pacific University, February 28, 2023
Electric Vehicles Require Real Progress—Not Lip Service—on Equity, Planetizen, November 28, 2022
Systemic Grid Failure is Killing People in Louisiana. Voting Can Save Their Lives, Common Dreams, October 22, 2022
Solar Power's Continued Success Rests on Diversifying its Workforce, Grist, October 7, 2022
Global Warming Will Bring More Heat Waves—And Greater Health Risks, Times of San Diego, September 15, 2022
Commentary: Biden's Climate Bill Isn't Enough for People of Color, Fingerlake Times, August 31, 2022
Opposition to Climate Action and Reproductive Rights is a Public Health Failure, Ms Magazine, August 10, 2022
We're Entering a Climate that Humans Did Not Evolve to Withstand, The Hill, July 24, 2022
What Climate Change Looks Like Across the Great Lakes States, Crain's Chicago Business, June 23, 2022
Selected thought leadership by the 2021 fellows:
I'm an Asian American Environmental Educator. White Supremacy Is a Threat to Me and to the Planet, Ms Magazine, April 20, 2022
Stopping Putin Starts with Holding the Fossil Industry Accountable, The Jewish Forward, March 15, 2022
Climate Action Must Include Racial Justice, The Progressive Magazine, March 2, 2022
China's Other Human Rights Atrocity, The Dispatch, February 24, 2022
Prepare Student to Lead on Climate, Environmental Justice, CalMatters, January 31, 2022
Opinion: California Schools Should Teach Asian American History, Starting with Fred Korematsu, The San Diego Union-Tribune, January 28, 2022
Olympians Should be Climate Activists, The Progressive Magazine, January 27, 2022
Central Valley Has Huge Potential to Store Carbon Underground and Help Slow Climate Change, Fresno Bee, December 7, 2021
Asian American Studies is Crucial for Achieving Climate Solutions, Ms Magazine, December 7, 2021
How is the Climate Crisis Being Taught in Schools and How Are Educators Helping Young People Deal with Climate Anxiety?, KALW Public Media, November 11, 2021
Opinion: HBCUs Must Keep Environmental and Climate Justice at Forefront, The Atlanta Journal-Constitution, November 10, 2021
The End of Hurricane Season is Not the End of Climate Disaster Season, The Hill, November 3, 2021
Why Are Natural Gas Prices High? Because Fracking Isn't Really Profitable, Barron's, October 28, 2021
Sen. Manchin's Inaction on Climate Change is the Real ʻFiscal Insanity,' CNN, October 24, 2021
The Intersection of Science and Religion, Good Morning America, October 15, 2021
Reducing Healthcare Sector's Greenhouse Gas Emissions, Yale Climate Connections, September 30, 2021
The Climate Crisis is a Health Crisis, CleanEnergy.org, September 13, 2021
Big Oil Needs to Take Responsibility for Climate Change—I Did, World War Zero, July 7, 2021
Bills Banning Critical Race Theory Also Threaten Climate Education, Grist, June 17, 2021
Carbon Removal Can and Must Be Part of the Climate Justice Agenda, The Hill, May 25, 2021
What Liz Cheney Got Wrong — About Climate Change, The Hill, May 18, 2021
Selected thought leadership by the 2020 fellows:
As a Black Climate Activist, Racism Gets in My Way, Grist, May 5, 2021
Climate Policy is Important, but the Bigger Challenge is Cultural Change, The Hill, April 14, 2021
The Truth Behind Companies' ʻNet Zero' Climate Commitments, The Hill, April 9, 2021
Florida Can't Build Higher Seawalls Forever. State Leaders Must Encourage Renewable Energy, Miami Herald, March 22, 2021
Oil and Gas Investors Need to Start Asking Tough Questions, Barron's, March 4, 2021
No Shelter From the Storms, The Progressive, March 2, 2021
The Fed Needs More Flexibility to Act More Equitably, The Hill, January 27, 2021
Young People Can Do More Than Organize. We Can Also Help Make Climate Policy, Grist, January 21, 2021
I used to mull when to have children. Now I ask if I should have them, USA Today, December 22, 2020
Acknowledging Indigenous Land is the First Step in Taking Better Care of It, Grist, October 12, 2020
Young Evangelicals are Defying Their Elders' Politics, CNN, September 29, 2020
Climate Crisis – A Bright Light in the Dark, The Hill, September 24, 2020
7 Ways You're Already Paying for Climate Change, Barron's, September 13,  2020
How Likely is it for Children to Spread Coronavirus? BBC, August 29, 2020
What Climate Change Does to the Human Body, Scientific American, August 29, 2020
In Louisiana, Grief Surges With Another Storm. So Does Hope. Grist, August 28, 2020
This Election is Bigger Than Our Generation or Even Our Country, Grist, August 18, 2020
Send Bond Covenants into Battle Against Climate Change, Financial Times, August 17, 2020