The climate crisis affects all of us, but its impacts are unevenly and unjustly distributed.  Those with the greatest power to mitigate and adapt to climate change often have the least incentive to do so, across geography, wealth, age, race, and gender.
There is an urgent need for new ideas from a diversity of individuals, across geography, wealth, age, race, and gender, including those most impacted by climate change. From them, we can learn new solutions and envision a more just future.
The YPCCC is delighted to continue its partnership with The OpEd Project and Senior Advisor Ann MacDougall to sponsor the Public Voices Fellowship on the Climate Crisis. This Fellowship is part of the OpEd Project's national Public Voices initiative to change who writes history. It is part of YPCCC's work to diversify and amplify the voices behind climate change action.
Today we are pleased to announce the 20 Fellows of our third cohort. They were chosen from a large and competitive field.
The 20 fellows demonstrate high-powered thought leadership in a variety of ways, including education, community organizing, public writing, and advocacy. Some speak for a younger generation, others bring the wisdom of decades of experience. Some engage faith communities, and others advocate for vulnerable, or historically underrepresented, communities. Some are innovating new ways to justly mitigate climate change, others are giving voice to the histories and stories of the climate movement. They all seek solutions.
Please join us in congratulating the third class of the Public Voices Fellowship on the Climate Crisis.
Amy Bowers Cordalis
Principal, Ridges to Riffles Conservation Fund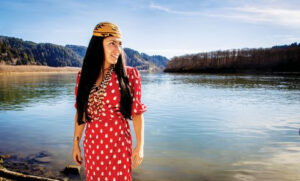 Amy Cordalis is a fisherwoman, attorney, mother, and member of the Yurok Tribe. Amy is the Principal of the Ridges to Riffles Conservation Fund, a nonprofit representing Native American tribes in natural and cultural resource matters. She was general counsel of the Yurok Tribe and a staff attorney at the Native American Rights Fund.
Amy's family is from the village of Requa at the mouth of the Klamath River in Northern California. Since colonization, every generation of Amy's family has fought for Yurok Rights. Her family's Supreme Court case, Mattz v. Arnett, reaffirmed the status of the Yurok Reservation as Indian country, laying the foundation for the exercise of the Tribe's sovereignty and the enjoyment of its federally reserved water and fishing rights. Amy continues her family legacy by focusing her work on Klamath River restoration, including dam removal, water rights, and fisheries issues.
Mr. Marqus A. Cole, Esq.
Director of Church & Community Engagement, Evangelical Environmental Network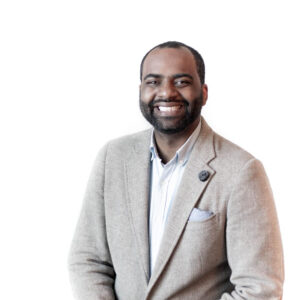 Marqus serves nationally as the Director of Church & Community Engagement with the Evangelical Environmental Network. He is also on staff with Grace Snellville, a suburban Atlanta congregation, as a Community Engagement Coordinator. A recent candidate for United States Congress in the Georgia 7th Congressional District, Marqus finds himself living and working in a hinge community, at a hinge moment, for historic climate action.
His call is to train, equip and mobilize people of faith to help them recover the scriptural mandate to steward and care for creation.
Marqus was trained in the inaugural cohort of the Racial Justice Training Institute (2014) created by the Shriver Center on Poverty Law. He holds a bachelor degree in Political Science from Georgia State University (2008), and a Juris Doctorate from DePaul College of Law (J.D. 2012).
Marqus is a lawyer, civic leader, and ministry worker. His vocational call sits at the intersection of scripture, science and society; with a passion for helping organize people and communities towards reconciliation and restoration.
Marqus uses his unique voice to bridge the gap between key stakeholder communities in this climate moment as a Black, millennial, professional, person of faith working directly in the civic arena in the Bible Belt.
Tiffany Duong
Founder and Storyteller, Ocean Rebels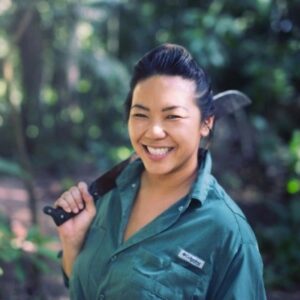 Tiffany Duong is a writer, explorer, and motivational speaker. Through her multidisciplined work and outreach, she champions collaborative solutions to the world's biggest problems and tells stories that move people. Tiffany holds degrees from UCLA and the University of Pennsylvania Carey Law School. Additionally, she is a trained climate organizer with Al Gore's Climate Reality Project and a climate educator through the University of Miami Osher Lifelong Learning Institute. Inspired by an epic scuba diving trip to the Galapagos, she left corporate law to campaign for our oceans and planet. In dense jungles, remote oceans, and the changing Arctic, she honed her multifaceted approach to ocean and climate advocacy. Her words appear in PADI, Scuba Diving Magazine, EcoWatch, Parley for the Oceans, and more. She is also a principal at Investable Oceans, an ocean and climate finance startup. When she's not writing to change the world from her slice of paradise in the Florida Keys, she can be found on expeditions providing scientific, media, and community relations support to preserve the world's wild places and outdoor heritage. In 2022, she joined The Leatherback Project's Rights of Nature campaign to advocate for the intrinsic rights of nature in Panama. Tiffany will round out 2022 as a member of the Sea Women Expedition to Norway. The women-only project will collaborate with indigenous communities to best protect the Arctic and its whales from climate change. Tiffany's mission, throughout her varied work, is to foster hope, create connections, and drive lasting change for our planet.
Melanie Gárate
Climate Resiliency Manager, Mystic River Watershed Association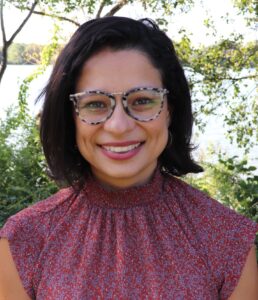 Melanie Gárate is the Climate Resiliency Manager for the Mystic River Watershed Association (MyRWA) in the Boston area. She began her career as a marine ecologist but was struck by the disproportionate environmental impacts to low-income BIPOC communities. This sparked her passion for environmental justice work, which she is able to pursue at MyRWA. There, she works with municipal staff, community-based organizations, service providers, and local residents to increase regional climate resilience. With community equity and health as a priority, she works with communities to decrease their risk of harm from extreme heat and flooding via nature-based solutions and social change.
Herself a first-generation Latina college graduate, Melanie co-founded a group called Professionals of Color in the Environment. POCIE provides community and networking opportunities in Massachusetts with the goal of increasing BIPOC professionals in the environmental sector. Members are affiliated with approximately twenty government agencies, nonprofit organizations, and educational institutions. They have attracted funder attention and have secured fiscal agency.
Prior to MyWRA, Melanie focused on coastal conservation and environmental education in the Boston area at Mass Audubon and the New England Aquarium. Melanie holds a Master of Science degree in Marine Ecology and Climate Change from the University of Rhode Island, where she obtained a NSF Graduate Research Fellowship to study mangrove ecology and perform community outreach in Puerto Rico. A native of the Pacific Ocean and Andean mountains of Chile, Melanie loves hiking and spending time by the water with her Puerto Rican street rescue dog.
Beth Gibbons
Executive Director, The American Society of Adaptation Professionals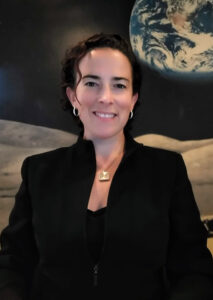 Beth serves as the Executive Director of the American Society of Adaptation Professionals (ASAP). In this role, she is responsible for strengthening the capacities of individual adaptation professionals, adaptation and resilience-oriented organizations, and accelerating the evolution of the adaptation field of practice. Prior to joining ASAP, Beth directed the University of Michigan's Climate Center and managed NOAA's Great Lakes Regional Integrated Sciences and Assessments Center. She serves on the National Advisory Committee of the University of Michigan's College of Engineering Climate and Space Program, the National Adaptation Forum Steering Committee, National Fish and Wildlife Foundation (NFWF) Great Lakes Advisory Committee, and previously on the International Joint Commission Climate Change Annex (Annex 9). In 2021 Beth was nominated and selected to serve as a contributing author to the Midwest Chapter of the 5th National Climate Assessment (due out in 2023). She is a dedicated community leader and extends her passion for resilient places and justice into her service and volunteer work; she serves as a sustainability commissioner in her beloved community of Ypsilanti, MI and is a former Peace Corps Volunteer, having served in Togo, West Africa. She holds a Master of Urban Planning from the University of Michigan.
Tonyisha Harris
Associate Director of Communications and Partnerships, Action for the Climate Emergency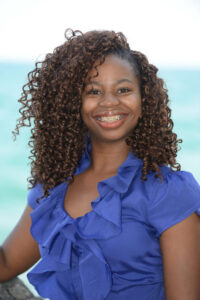 Tonyisha Harris is the Action for the Climate Emergency's Associate Director of Communications and Partnerships. Having been introduced to the organization via a climate education assembly in high school, it is a full-circle moment for her to be working for the organization that inspired her to be a youth climate and environmental justice advocate. She helps ACE garner earned media opportunities, communicate with partners, and supports its coalition-building efforts.
Tonyisha earned her B.S. in Environmental Science from Loyola University Chicago in 2019. As a Doris Duke Conservation Scholars Program alumnus, she conducted research at the National Oceanic and Atmospheric Administration (NOAA) and interned at the Huron River Watershed Council. After studying abroad in the Galapagos Islands, she launched the "A Place at the Table" Campaign through the Student Environmental Alliance to promote diversity, equity and inclusion on campus for environmental discourse. She previously worked at the Illinois Environmental Council as the Clean Energy Programs Director and Chicagoland Conservation Manager. One of her biggest accomplishments was organizing a CEJA photo banner delivery to Illinois Governor Pritzker with 300 young people at the Capitol; the bill passed in 2021. She is also a 2021 New Leaders Council Fellow.
Christine James, M.D., M.Sc.
Assistant Professor of Medicine, UC San Diego Health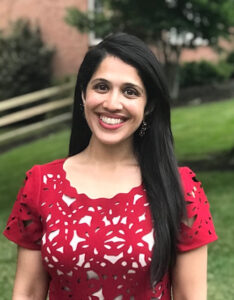 Dr. Christine James is a clinical assistant professor of medicine at the University of California San Diego, where she practices and teaches in the Division of Rheumatology, Allergy, and Immunology. Her interest in climate change began in fellowship at the University of Cincinnati/Cincinnati Children's Hospital Medical Center. During her training, she obtained a master's degree in clinical and translational research in the department of environmental health. Her research focused on the intersection between climate change and allergic-immunologic disease. She has since expanded her work to advocacy through op-eds, educational webinars, and policy efforts.
She is a trained Climate Reality Leader and has completed her certificate in Climate Change and Health Communication from the Yale School of Public Health. She is a former Doctors for America Copello Fellow and has continued her climate change advocacy work as a member of the Public Health Advisory Council of Climate Action Campaign and Climate Health Now.
Ambar Johnson
Program Director, LivableStreets Alliance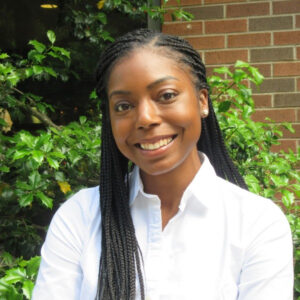 Ambar is a transportation planner, mobility advocate, bicycle educator, and researcher. She's Program Director at LivableStreets Alliance, a transportation advocacy non-profit that creates innovative transportation solutions to resolve mobility and accessibility in Metro Boston. Ambar directly stewards and manages the Emerald Network, a vision for 200+ miles of greenways through Metro Boston by 2030 to connect every neighborhood to open space, transit, and jobs and increase mobility options, improve climate change resiliency, and promote active recreation for Boston's residents of which 34% do not own a car.
Ambar sources her knowledge from her family, the Land, and the Georgia Institute of Technology, of which she is a graduate, where she studied history, technology, and society with a concentration in civil and environmental engineering. Systems thinker, network weaver, and storyteller, Ambar has a newsletter, called the (e)motional city, where she writes about the forces that move us in our cities.
Working on dozens of transit feasibility plans, comprehensive plans and the City of Atlanta's comprehensive transportation plan, she's most proud of co-launching Relay Bike Share with her neighbors in Atlanta, which was named a global model for implementing community based bike share programs by the Institute for Transportation Development Policy.
Ambar's analysis of mobility, greenspace, and culture has been featured in Allure Magazine, the Boston Globe, Cyclista Zine, and more. In 2019, Ambar was part of the inaugural cohort of the Women Changing Transportation program, hosted by TransitCenter.
Tanya Kalmanovitch
Associate Professor, The New School; Co-Principal Investigator, NYU FutureArts Lab; Mission Circle Co-Lead, SCALE / LeSAUT; Musician Performer of Tar Sands Songbook.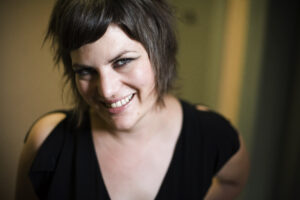 Tanya is a Canadian musician, scholar, and author known for her breadth of critical inquiry and spirited engagement with the central issues of our time. Trained at the Juilliard School, her research and creative projects explore the complex ways that music is shaped by, and helps to shape, history and society.
Kalmanovitch's Tar Sands Songbook, an autobiographical documentary play, details her coming of age during Alberta's oil boom, illuminating the profound environmental and human impacts of extractivism. With the support of the MAP Fund and the Canada Council for the Arts, Kalmanovitch is launching a multi-year performance tour along the pipeline, rail and truck routes that connect Alberta oil to global markets, using the power of music and storytelling to accelerate community conversations about energy transition.
Kalmanovitch has been named to the "Grist 50 Fixers,"artist-in-residence with the Climate Action Network Canada / Réseau action climat Canada, and is the Mission Circle Co-Lead of SCALE/LeSAUT, a network mobilizing the Canadian arts and culture sector in the climate emergency. She is co-Principal Investigator of the National Endowment for the Arts Research Lab in the Sustainable Entrepreneurship in the Performing Arts, an Associate Professor at The New School in New York City and has also taught for over a decade at the New England Conservatory in Boston.
Born in Fort McMurray, Alberta, she now resides in Brooklyn, New York.
Melanie La Rosa, MFA
Assistant Professor, Media, Communication, and Visual Arts, Pace University; Director, "How To Power A City"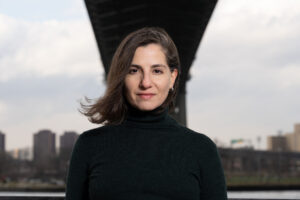 Melanie La Rosa is an award-winning filmmaker and a professor of media and film production. Her most recent documentary "How To Power A City" (releasing in 2022) follows individuals leading solar and wind power projects in six communities. She authored a book based on the film, "Communities and the Clean Energy Revolution" (Lexington Books/Rowman & Littlefield, 2022). Her writing has been published in outlets including NACLA, the Journal of Film and Video, and with EDITMedia.
Melanie's filmography includes "The Poetry Deal: a film with Diane di Prima", in release on public television stations across the U.S. through 2025, and "Sir: Just A Normal Guy," which broadcast nationally on Free Speech TV and screened to acclaim at LGBTQ film festivals around the world. Her films have won awards, screened at events around the world, and are in the permanent collections of more than 100 institutions from Ivy League universities to community colleges and public libraries. Support for her work includes grants from the New York State Council on the Arts, the Periclean/Mellon Faculty Leadership Award, the Brooklyn Arts Council, the Queens Council on the Arts, the Solutions Journalism Network, The Puffin Foundation, and the Yip Harburg Foundation.
Melanie grew up in Lansing, Michigan, has lived in the Bay Area, Philadelphia, and Washington D.C., and now resides in New York City. She earned an MFA in Film and Media from Temple University and a BA in Political Science from the University of Michigan.
Sage Lenier
Educator, Solutions For a Sustainable & Just Future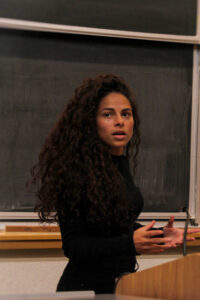 Sage Lenier is a 23-year-old educator focused on justice-oriented environmental solutions. As an undergraduate at UC Berkeley, she wrote and taught her own course, Solutions for a Sustainable & Just Future, for five semesters, which has now served 1,500 students and counting. During her time at Berkeley, she also helped organize climate strikes, establish a campaign for a UC Green New Deal, worked for the University of California's Carbon Neutrality Initiative, and served as the student government's Head of the Department of Zero Waste. Sage's work covers the circular economy, gender equality, decarbonization, labor movements, food systems, urban development, environmental justice, and more, specifically seeking to pull back the curtain on the global systems of extraction and oppression that are necessary for capitalism's survival while envisioning bold alternatives. Her work has been featured in The New York Times and The World Economic Forum and has brought her to speak at Earthjustice, BECC, CSU Earth Day, and universities and organizations around the world.
Sage is currently employed with the environmental nonprofit The Story of Stuff Project, running an educational Instagram (@sustainableandjustfuture), writing her first book, and digging in with land projects & environmental justice fights in her local community.
Neha Misra नेहा मिश्रा
Global Ambassador, Remote Energy; Regenerative Artivist, Design Science Studio; Creator, Neha Misra Studio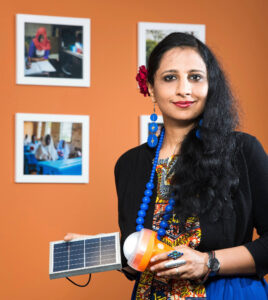 Neha Misra I नेहा मिश्रा is an award winning climate justice advocate, contemporary visual eco-folk artist, and poet. A first generation immigrant from India, Neha's intersectional climate leadership spans global, national, and local impact. Neha serves as the Inaugural Global Ambassador of non-profit Remote Energy whose solar workforce development programs are addressing acute gender and racial inequities in the solar energy movement in America and beyond. In 2020, amidst multiple ecological, racial, pandemic reckonings, Neha launched her Earth stewardship centered multi-disciplinary studio which uses the power of art and poetry to foster planetary health. For this visionary work, she was selected as a Regenerative Artivist by Design Science Studio – a partnership of the Buckminster Fuller Institute and HabRitual for creative leaders advancing planet conscious art. Since 2012, Neha has served as Solar Suitcase Ambassador for We Care Solar which powers midwives across the world with accessible solar innovations. Prior to this, Neha Co-Founded pioneer social enterprise Solar Sister to grow local women-led sustainable energy access in communities across sub-Saharan Africa. In 2017, Neha was selected as a Presidential Leadership Scholar. Neha has been featured in National Geographic Magazine, Next Billion, Forbes, Ms. Magazine, Mothers of Invention, Business Fights Poverty Top Climate Podcasts, The John F. Kennedy Center for Performing Arts, Miami Art Week Regenaissance, The Washington Post, and Voice of America. Committed to the vital role of art for social justice, Neha serves on the board of Silver Spring Town Center – a Washington metro based intergenerational arts and culture non-profit.
Courtney Naquin
Gulf Coast Press Secretary, Sierra Club; Youth Education Coordinator, Houma Language Project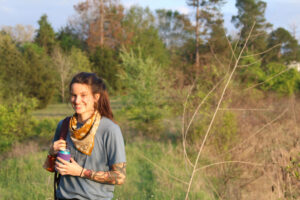 Courtney Naquin is a climate and environmental justice communications professional based in New Orleans. Courtney was born and raised in a petrochemical and fossil fuel "sacrifice zone" of Southeast Texas, and has deep family roots in endangered bayou communities of Southern Louisiana. They've seen first hand the devastation and displacement of multiple major climate and environmental disasters, from Hurricane Katrina to the BP Deepwater Horizon Oil Spill to the more recent Hurricane Ida.
Their upbringing inspired them to make environmental advocacy and climate communications their career. They are currently the Gulf Coast Deputy Press Secretary for Sierra Club's Beyond Dirty Fuels campaign, working closely with grassroots organizations and frontline leaders to elevate the Gulf South resistance to extractive and polluting industry. They are a firm believer in "bottom up" messaging and community-led storytelling that centers the experiences and needs of those most impacted by industry activity and climate change. Courtney is dedicated to helping stop the fracked gas "LNG" buildout that is threatening the Gulf Coast, especially in the Rio Grande Valley, Southeast Texas, and Southwest Louisiana. They work with communities and groups along the "fracking cycle," referring to the extraction of fossil fuels from the Permian Basin to transport and export along the TX/LA Gulf Coast.
Courtney also works as the education coordinator for the Houma Language Project, a new cultural restoration initiative with United Houma Nation, one of Southern Louisiana's Indigenous Tribes. The Houma Language Project aims to revitalize Uma, the Tribe's original language, and to engage Houma youth to help keep Houma French alive in a time where climate change poses an active existential threat to the Indigenous peoples of Southern Louisiana.
Cameron Oglesby
Project Coordinator & Creative Lead, The Environmental Justice Oral History Project; Associate Editor, Earth in Color; Freelance Environmental Justice Journalist and Place-based Storyteller; Graduate Student, Duke University Sanford School of Public Policy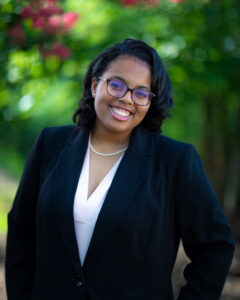 Cameron Oglesby is an environmental justice advocate, ecologist, artist, and multi-media storyteller who is passionate about the integration of community-driven, place-based perspectives in conservation, environmental policy solutions, and corporate decision-making.
She is a 2021 global McKinsey Achievement Award recipient, a Memorial Foundation Social Justice Fellow, and a Doris Duke Conservation Scholar alumna who has written and produced audio pieces for Grist, Southerly, Scalawag, Environmental Health News, The Wilderness Society, and the 9th Street Journal/INDY Week.
Cameron believes climate change is far more than a series of numbers and atmospheric patterns; that it is a collective experience and an ongoing injustice that is most accurately communicated through community storytelling.
While a current graduate student, she reports on environmental justice issues in North Carolina's rural communities and works as an Associate Editor at Earth in Color: a creative studio and storytelling hub created to affirm the deep-rooted connections between Black culture and nature.
As project coordinator for The Environmental Justice Oral History Project, Cameron also works to elevate the personal narratives of communities impacted by environmental injustices across the American South through oral history collection, journalistic partnerships, community engagement research and advocacy, podcasts, and nationally-scaled environmental justice events.
Cameron hopes to use her knowledge in science, policy, journalism, and organizing as well as her own spiritual and cultural connections to place to empower communities and instill respect for people and the planet.
Anita Raman
Research and Policy Development Associate, Cornell University Worker Institute's Labor Leading on Climate Initiative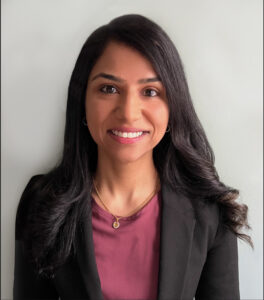 Anita Raman is a Research and Policy Development Associate for the Cornell University Worker Institute's Labor Leading on Climate Initiative. Raman studies the labor implications of climate change, advancing knowledge and policies that help unions engage in public climate debates and advocate for a just worker transition. Most recently she led research on "Climate for Change: A Complete Climate Jobs Roadmap for NYC", a set of recommendations currently being presented to NY City Council on how the city can most effectively reduce emissions and inequity, increase resilience, and create high-quality jobs. Raman's research has helped advance Climate Jobs National Resource Center's Carbon-Free Health Schools campaign in three states and is supporting high-road climate labor policy development in six states. Before joining Cornell, Raman implemented climate adaptation projects in the Global South at UNDP and published high-level reports analyzing national climate plans and global agreements at the UN Secretariat. Raman also managed data and reporting for a NYS Governor's program that helped low-and-middle income families migrate away from climate coastline hazards after Hurricane Sandy. Prior to moving to New York, Raman, as an officer in the U.S. Department of State, coordinated bilateral meetings and global events to further science cooperation and bolster civil society. Raman received her M.A. in Climate and Society from Columbia University and her B.S. in Environmental Science from the University of California, Los Angeles.
Samira Siddique
Climate Change Justice Scholar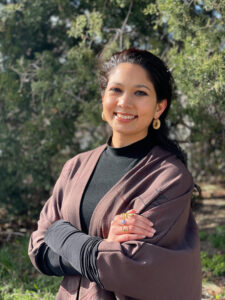 Samira Siddique is a PhD candidate and National Science Foundation Graduate Research Fellow in the Energy and Resources Group at the University of California, Berkeley. She is currently a Visiting Scholar at the New School's Zolberg Institute on Migration and Mobility. Her research is on global climate change justice, which she studies through her work on the politics of aid and development in the Rohingya refugee camps in Bangladesh, post-colonial environmental history in the Global South, and on climate migration to Asian megacities. As a researcher at the Bangladesh-based International Centre for Climate Change and Development, she co-designed the first long-term environmental monitoring project in the Rohingya refugee camps. Her related research is on global displacement, climate change governance, and critical development and humanitarianism. More broadly, she is interested in how displaced populations, refugees, and migrants are integrated into existing development frameworks, and in conceptualizing a new development paradigm for those that have been systematically "othered" and persecuted.
Samira has presented her work to members of the US Congress, the State Department, the UN Refugee Agency, the International Organization for Migration, and the Bangladeshi government. She collaborates with activists, artists, practitioners, and scientists around the world on climate change justice for displaced communities. She received her MS in Energy and Resources from UC Berkeley, and BA from Wesleyan University in the College of Social Studies and the College of the Environment. She was born and raised in Brooklyn, NY.
Vishnu Laalitha Surapaneni
Assistant Professor, General Internal Medicine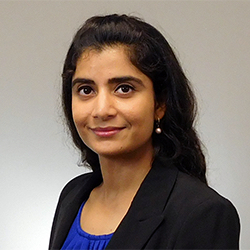 Dr. Laalitha Surapaneni is an assistant professor of internal medicine with a public health degree from Johns Hopkins Bloomberg School of Public Health. She is a board-certified practicing physician, educator and researcher at the MHealth Fairview University of Minnesota Medical Center in Minneapolis. She is also a national board member of Physicians for Social Responsibility.
Dr. Surapaneni's areas of interest are impacts of climate change on health, and how physicians can play an active role in advocating for clean climate policies that promote planetary health. She has provided testimony to the Minnesota legislature, served as a public health advisor on the sustainability council for Minnesota's department of transportation, and has co-authored white papers on health harms of fossil fuel infrastructure. She also helped draft legislation to update climate standards in Minnesota- the Next Generation Climate Act- along with the Minnesota Center for Environmental Advocacy. Dr. Surapaneni has been involved in several community-led climate movements in the states of Maryland and Minnesota.
Dr.Surapaneni is also involved in global health work and volunteers with Konbit Sante, a Maine-based NGO, to support the climate resiliency needs of rural Haitian hospitals.
As a science communicator, Dr. Surapaneni regularly speaks with media outlets about public health impacts of climate change and has been interviewed by Minnesota Public Radio, Associated Press, and the Gaurdian. Her work has been cited in print and online outlets including the Star Tribune, MN Daily and Common Dreams. She also regularly contributes opinion pieces and her work has been published in Ensia, MinnPost and Duluth News Tribune.
Tiffany Turner
Director of Climate Solutions, Theodore Roosevelt Conservation Partnership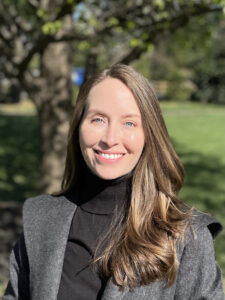 Tiffany Turner is an environmental health and climate scientist. Whether intentional or providence, she regularly finds herself in settings where her role is to bring people along to a new way of thinking, particularly when it comes to the environment. She's comfortable and experienced with meeting people where they are and finding a new path forward together.
Tiffany spent over a decade in the energy industry creating and executing environmental policies and investing in communities to catalyze growth and provide sustainable alternative energy. She is now leading a coalition of conservationists to advance natural climate solutions. Through grassroots and grasstops advocacy and education, she's working to build support and shift mindsets for climate solutions while advancing climate mitigation, adaptation, and resilience policies.
Tiffany holds a Master's in Public Health from the University of Michigan, where she focused on work-related environmental and health issues. A native Kentuckian, she now lives in Washington, D.C. with her wife and two children.
Clara Vondrich
Climate Strategist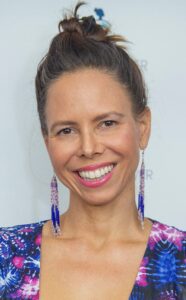 Clara Vondrich is an expert in climate advocacy and communications. She has been a prominent leader in the movement calling for divestment from fossil fuels and investment in climate solutions. Clara advanced the Divest-Invest campaign in a number of crucial roles from 2015 to 2020, and now serves as a consultant.
Clara has spent her career looking for levers to accelerate the renewable energy transition. An attorney, she left her job at a DC law firm to join President Obama's BP-Deepwater Horizon oil spill commission in 2010, where she focused on environmental justice and challenged stakeholders to reimagine a Gulf economy beyond oil.
After additional roles in public policy, Clara was convinced that grassroots movements held the power for transformative change. In 2013, she joined Fenton Communications as the firm's first director on climate. Among her clients was a new network, Divest-Invest Philanthropy, where she went on to serve as inaugural director. For this work, Clara was one of three leaders named "Philanthropy Organizers of the Year" in 2021.
Clara went on to direct the broader Divest-Invest Initiative, lifting up the growing movement with expert messaging and analysis, strategy convenings, media relations and conferences – including the first climate finance conference in the Global South. During her tenure, the movement exploded around the world from early investors, such as faith groups and colleges, to pension funds, banks, and insurance companies.
Together with the bold leadership and pioneering advocacy of student activists, faith leaders, and a myriad of organizations like 350.org, Carbon Tracker, and the Wallace Global Fund, Divest-Invest has contributed to moving institutions with $40 trillion in assets under management to make full or partial divestment commitments.