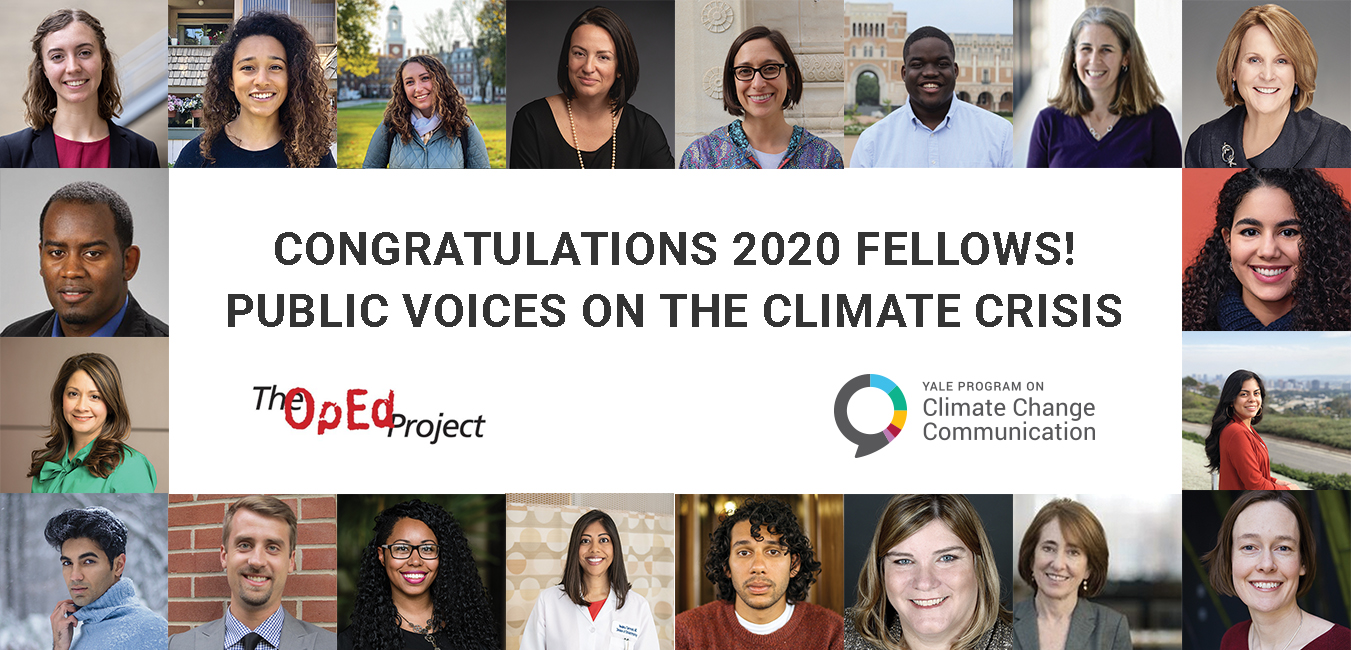 Just as we are seeing now with COVID-19, the climate crisis affects all of us, but its impacts are unevenly and unjustly distributed.  Those with the greatest power to mitigate and adapt to climate change often have the least incentive to do so, across geography, wealth, age, race, and gender.
We need better and faster ideas from more diverse individuals across these divides, including those most affected by climate impacts, who are able to see new solutions and envision a more just future.
This is why YPCCC is proud to join the The OpEd Project and Senior Advisor Ann MacDougall to launch the Public Voices Fellowship on the Climate Crisis. This Fellowship is part of The OpEd Project's national Public Voices initiative to change who writes history. It is also part of YPCCC's work to diversify and amplify the voices working to build public and political will for climate change action.
Today we are pleased to announce the 20 Fellows for our inaugural year.
The fellows were selected from more than 650 applicants, making selection very competitive.
The 20 Fellows demonstrate high-powered thought leadership in a variety of ways including community organizing, film, public speaking, and public writing. Several bring decades of experience shaping global and domestic climate policy, driving the transition to clean, renewable energy, or articulating the connections between climate change and human health. Some are shaping the political voice of a new generation, engaging faith communities to address climate change, or amplifying the voices of vulnerable, historically underrepresented populations. Others are championing new approaches to achieve equity in transportation, energy, and other sectors while also reducing carbon pollution. They all seek solutions.
Please join us in congratulating the inaugural class of the Public Voices Fellowship on the Climate Crisis!
Saad Amer 
Founder, Plus1Vote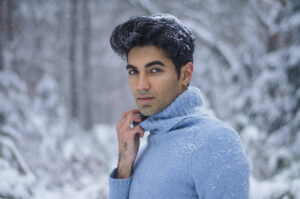 Saad Amer is an environmentalist, activist and the Founder of Plus1Vote, an organization dedicated to improving voter turnout and improving representation in our democracy. Reaching millions, the organization rallies voters on issues like climate change, social justice and voting rights.
He is an Expert Reviewer for the upcoming IPCC AR6 report, is on the United Nations Framework Convention on Climate Change's Youth Constituency, and is an Advisor to theNational Parks Conservation Association. He has researched the impacts of climate change on the ground in the Indian Himalayas with USAID, has taught environmental sustainability in China, co-created Harvard University's inaugural Sustainability Plan, and discovered a new hybrid species in French Polynesia.
He has written for National Geographic, PBS and the World Bank, and has spoken at the United Nations and TEDx.
He went to Harvard University where he studied Environmental Science and Public Policy with a minor in Organismic and Evolutionary Biology.
Charles T. Brown, MPA, CPD, LCI
Senior Researcher and Adjunct Professor, Alan M. Voorhees Transportation Center, Edward
J. Bloustein School of Planning and Public Policy at Rutgers University
Charles is a self-proclaimed "street level researcher" working at the intersection of transportation, health, and equity. As one of the nation's leading thought leaders, he has spent his entire career committed to the fight for more equitable, inclusive, and livable communities in the US and abroad. As a survivor of both Hurricane Katrina and Hurricane Sandy, he understands firsthand the importance of increasing access to public transportation and building more safe and convenient spaces for people to bike, walk, roll and "e-scoot" to improve their overall health and wellbeing. His background includes public and private sector experience in urban and regional planning, public policy, and research. He has led community outreach and engagement involving public agencies, for-profits, and non-profit organizations across the US and abroad. He has developed and taught courses on introductory and advanced environmental justice (EJ), equity, vision zero, and complete streets for the National Transit Institute, Federal Transit Administration, Federal Highway Administration, Centers for Disease Control and Prevention (CDC), and New Jersey Department of Transportation. He is an active member of the Transportation Research Board (TRB) Pedestrian Safety Committee and Bicycle Transportation Committee. His work has been published in several journals and featured in the New York Times, CityLab and various other national and local media outlets. He is the recipient of several notable honors in transportation and receives invitations to speak locally, nationally, and internationally. He is a military veteran and a recipient of the Mississippi Commendation Medal and Global War on Terrorism Service Medal.
Nikoosh Carlo, PhD
Owner and Chief Strategist, CNC North Consulting LLC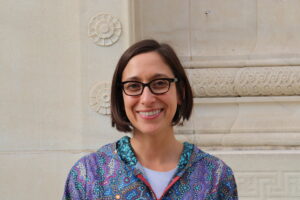 Dr. Nikoosh Carlo is CEO of CNC North Consulting LLC. She has extensive experience working to advance community-based solutions to climate change. As founder and chief strategist at CNC North Consulting, Dr. Carlo helps clients develop a vision for their climate and Arctic priorities, build momentum to achieve change, and foster partnerships to drive forward movement. Dr. Carlo has a special interest in advancing initiatives that support climate equity and the health and well-being of Arctic residents and Indigenous peoples. Dr. Carlo previously served as senior advisor for climate and Arctic policy to the Governor of Alaska (2017-18), a senior advisor at the U.S. State Department for the U.S. Chairmanship of the Arctic Council (2015-17), and the executive director of the Alaska Arctic Policy Commission (2013-15). Dr. Carlo is Koyukon Athabascan and has deep roots in the Interior Alaska communities of Fairbanks and Tanana, where she was raised. Dr. Carlo received a Ph.D. in neuroscience from the University of California San Diego and a B.S. in psychology from the University of Alaska Fairbanks.
Piper Christian
Co-founder, Utah Youth Environmental Summit
Student, University of Utah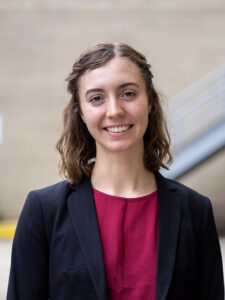 Piper Christian is a Sophomore at the University of Utah. At the age of sixteen, Piper attended the COP21 UNFCCC Paris Climate Conference as a youth journalist, where she interviewed activists from twelve different countries about their various efforts to protect the environment. When Piper returned home, she founded the Logan Environmental Action Force within her high school. This student group introduced and led the statewide campaign to pass the House Concurrent Resolution on Environmental and Economic Stewardship through the Utah Legislature. This resolution was the first of its kind to recognize the impacts of climate change and encourage emissions reductions within Utah. Piper was a lead student organizer and public spokesperson, allowing for success from start to finish of this advocacy campaign. She gave the TEDx talk "Share Your Story, Protect the Planet" to speak about her experiences.
In 2018, Piper co-founded the Utah Youth Environmental Summit, which trained students from fifteen schools in climate activism strategies. In 2019, she founded a climate advocacy organization at the University of Utah, which engages students in local environmental issues. As a member of the Governing Board of Citizens' Climate Lobby, as well as the Jane Goodall Institute's National Youth Leadership Council, she has worked to inspire youth climate activism around the US. In her free time, Piper enjoys hiking and skiing with her family and friends. 
Dr. Frances Colón
CEO, Jasperi Consulting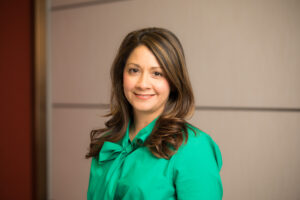 Dr. Frances Colón is the former Deputy Science and Technology Adviser to the Secretary of State at the U.S. State Department. As a science diplomat in Washington D.C. from 2006 – 2017, Dr. Colón promoted integration of science and technology into foreign policy dialogues, global advancement of women in science, and coordinated climate change policy for President Obama's Energy and Climate Partnership of the Americas.  Dr. Colón earned her Ph.D. in Neuroscience in 2004 from Brandeis University and her B.S. in Biology in 1997 from the University of Puerto Rico. She currently specializes in advising on science policy and evidence-based decision-making for local and foreign governments. As an Open Society Foundations 2019 Leadership in Government Fellow, Dr. Colón worked to catalyze policy action to counter the impacts of climate change on vulnerable communities in Florida. Dr. Colón is a member of the National Academies of Science, Engineering and Medicine- New Voices Project, the Roundtable on Science and Technology for Sustainability, and the Global Science Diplomacy Roundtable. 
Karen Conover
Vice President, DNV GL
Founding board member, Women in Renewable Industries and Sustainable Energy
(WRISE)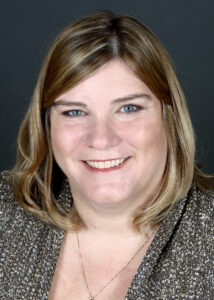 Karen Conover has more than 30 years of international experience with renewable energy technologies, helping clients with development, technology, and operational challenges. She founded a consulting engineering company, which was acquired by DNV GL in 2008. Karen continues to work for DNV GL in a strategic consulting role.
Karen served on the board of the American Wind Energy Association (AWEA) for 20+ years. She's a Past President of the board and served on numerous industry committees. She is a founding board member of Women in Renewable Industries and Sustainable Energy (WRISE) and was chosen as one of the inaugural ambassadors for the US DOE Clean Energy, Education and Empowerment (C3E) program, a part of the global Clean Energy Ministerial. Karen has been recognized as Industry Woman of the Year (WRISE, 2010), Outstanding Contributer to the Wind Industry (AWEA, 2012), and a Wind Energy Influencers and Innovator (Windpower Engineering, 2011 and 2016). She was ranked in the top 20 of the global Women in Power list (2017) and in the top 100 of the North American Power list (2018). She holds a B.S. in Mechanical Engineering from Duke University and was recognized with a Distinguished Alumni Award from Duke's School of Engineering. She also holds an M.S.E. from the University of Arizona. She lives in Seattle, Washington with her husband and two daughters.
Michelle Diane Hernandez
Field Representative and Caseworker, U.S. House of Representatives-
Congressmember Alexandria Ocasio-Cortez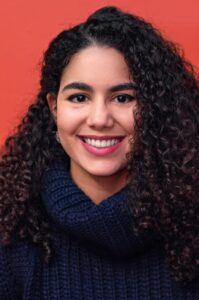 Born and raised in Jackson Heights, Queens to immigrant parents, Michelle proudly works for her home congressional district.
Michelle is the daughter of Colombian and Dominican parents and the first in her family to graduate from college. She has a Bachelor of Arts in Environmental Studies from Brown University. As an alumna, she helped create and chaired the First-Generation Alumni Advisory Committee and served as Vice President of Regional Engagement for the Brown University Latino Alumni Council.
Her professional experience includes interning with the United States Senate for New York Senator Charles Schumer and the Division of Environmental Biology at the National Science Foundation, and working as a Senior Associate for theGROUP, a
political consulting firm in Washington, D.C. Prior to working for Congress, Michelle traveled to France, Kenya, and Brazil with the Youth Climate Leaders fellowship program to learn from and consult for international and grassroots climate change initiatives.
Today, she serves her congressional district as a community liaison and constituent services advocate, engaging residents and community-based organizations on federal-related issues. At the 2018 UN Climate Negotiations, COP24 in Poland, she co-founded and currently co-facilitates the UNFCCC Youth Constituency's Cities Working Group, a global network of youth involved in urban-related climate change advocacy.
Alice Hill
Senior Fellow for Climate Change Policy, Council on Foreign Relations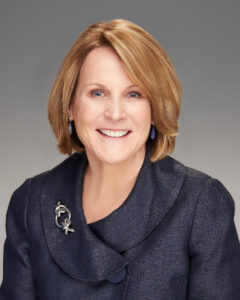 Alice's work at CFR focuses on the risks, consequences, and responses associated with climate change. Hill previously served as special assistant to President Barack Obama and senior director for resilience policy on the National Security Council staff where she led the development of national policy to build greater resilience to catastrophic risk, including climate change. Earlier in her career, she was a supervising judge on the Los Angeles Superior Court. Prior to her judicial service, she was a federal prosecutor and chief of the white-collar crime unit in the United States Attorney's Office in Los Angeles, California. The U.S. Department of Justice awarded her its highest honor for outstanding legal achievement. Oxford University Press published her coauthored book, Building a Resilient Tomorrow: Preparing for the Coming Climate Disruption, in 2019. She currently serves on the boards of the Environmental Defense Fund and Munich Re Group's U.S. based companies.
Mary Anne Hitt
National Director of Campaigns, Sierra Club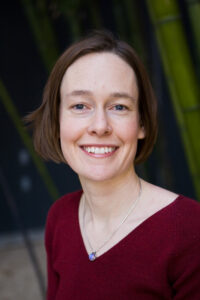 Mary Anne Hitt is an advocate and strategist. She is the National Director of Campaigns at the Sierra Club, where she previously served for a decade as director of the Beyond Coal Campaign, recognized as one of the most successful environmental campaigns in history. Working with partners across the nation, the campaign blocked the construction of 200 proposed US coal plants, secured retirement of over half of existing US coal plants, and helped usher in the clean energy era. She also co-hosts the climate storytelling podcast No Place Like Home. 
Mary Anne was listed in 2015 as one of the POLITICO 50, POLITICO's list of the top thinkers, doers and visionaries transforming American politics. She has made numerous media appearances including Good Morning America, MNSBC, the New York Times, Washington Post, National Public Radio, and Democracy Now! She was featured in the National Geographic film From the Ashes and the Emmy-winning climate series Years of Living Dangerously. 
Mary Anne previously served as the executive director of several grassroots organizations, including Appalachian Voices. She received her Master's of Science in Environmental Studies from the University of Montana and her Bachelor's degree in the College Scholars program at the University of Tennessee, where she later received the 2008 Notable UT Woman Award. She grew up in the mountains of east Tennessee and now lives in West Virginia with her family. Find her @maryannehitt.
Nikayla Jefferson
Lead organizer, Sunrise Movement, San Diego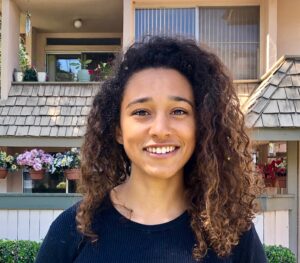 Besides her work with Sunrise, Nikayla is a climate policy researcher at her alma mater UC Santa Barbara. She served as a California state co-chair for the Bernie Sanders presidential campaign. She plans to pursue the political science Ph.D program at UC Santa Barbara for environmental policy in Fall 2020. In her free time she collects national park pins, hosts disco dance parties, and writes poetry about girls. She is published in the Los Angeles Times and fanfiction.net. 
Dr. Jennifer Marlon
Research Scientist and Lecturer, Yale School of Forestry & Environmental Studies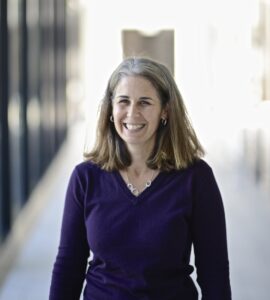 Jennifer Marlon, Ph.D. is an interdisciplinary Research Scientist and Lecturer at Yale School of Environment and the Yale Program on Climate Change Communication. She obtained her Ph.D. and M.S. in Geography from the University of Oregon. Dr. Marlon studies coupled socioecological systems to understand the drivers of environmental change and to improve our ability to mitigate and adapt to climate change. Her recent projects include the Yale Climate Opinion Maps, a reconstruction of global wildfire activity for the past 1000 years, an analysis of coastal residents' hurricane attitudes, and a study of how the emotions of hope and doubt motivate Americans to act on climate. She has published over 50 peer-reviewed articles and currently teaches Environmental Data Visualization and Communication at Yale.
Rev. Kyle Meyaard-Schaap
National Organizer and Spokesperson, Young Evangelicals for Climate Action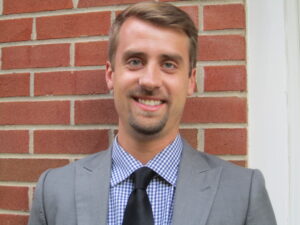 Young Evangelicals for Climate Action is a national network of young Christians taking action to address the climate crisis as an expression of their Christian witness and discipleship. Kyle holds an undergraduate degree in religious studies from Calvin College (B.A. '12), a Master of Divinity degree from Western Theological Seminary (M.Div. '16), and is ordained in the Christian Reformed Church in North America (CRCNA). Much of his professional experience has involved the integration of theology, science, and action toward a deeper awareness of the Christian responsibility to care for God's earth and to love one's neighbors, both at home and around the world.
Kyle has been named to Midwest Energy Group's inaugural 40 Under 40 and the American Conservation Coalition's 30 Under 30 cohorts for his work on climate change education and advocacy. His work has been featured in national and international news outlets such as PBS, NPR, NBC News, Reuters, and U.S. News and World Report. Heis married to Allison and lives in Grand Rapids, Michigan with their son, Simon.
Jennifer Nash
Director, Business and Environment Initiative (BEI) at Harvard Business School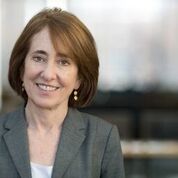 Jennifer works with faculty to establish and implement the BEI's strategy and program portfolio. She coordinates resources across the school to strengthen research and teaching about business and the environment, connect students with career opportunities, and engage with alumni and other managers and policymakers working on topics such as climate change, sustainable agribusiness, and effective governance. Her research examines private and public roles in environmental protection, with an emphasis on innovative, voluntary, and self-regulatory approaches.
Jennifer served as associate director and acting director of the MIT Technology, Business, and Environment Program in 1990, one of the first university-based research programs to explore the changing role of business in environmental protection. For more than a decade she directed Harvard Kennedy School's Regulatory Policy program, the clearinghouse for the study of regulation across Harvard University.
At Harvard Business School, Jennifer has helped launch numerous projects to spark business action to address climate change including a podcast called "Climate Rising," an exhibit for MBA students called "Confronting Climate Change: From Business as Usual to Business as Vital," and series of eight alumni convenings in cities throughout the United States on business leadership in the age of climate change.
Kiera O'Brien
Founder and President, Young Conservatives for Carbon Dividends
Student, Harvard University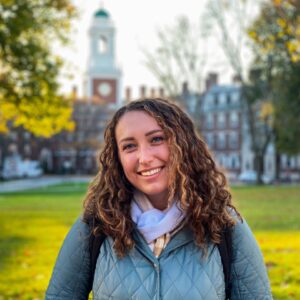 Young Conservatives for Carbon Dividends is a lobbying organization that aims to mobilize young conservative leaders in support of the Baker-Shultz Carbon Dividends Plan and renew the GOP's proud legacy of environmental leadership. She graduated from Harvard College in 2020, where she studied Government on the Technology Science track and served as President of the Harvard Republican Club. Kiera grew up in Ketchikan, Alaska, a small island community in southeast Alaska. She enjoys hiking and fishing with her parents, her two sisters, and three small dogs.
Justin Onwenu
Environmental Justice Organizer, Sierra Club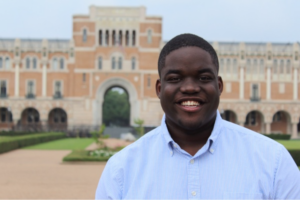 Justin is a 4th generation Detroiter and environmental justice organizer for the Sierra Club. As a Detroit based organizer he fights for clean air, clean and affordable water and a just economy for all communities. This has included advocating for city ordinances that protect drinking water, securing funds for communities in need of air filtration systems, and working with local unions to fight for a just transition.
Originally interested in medicine and public health, he became involved in addressing climate and environmental justice issues in the aftermath of Hurricane Harvey. In the hurricane's aftermath and as Rice University Student Body President, he helped organize thousands to respond and support some of Houston's hardest hit areas. After graduating, he led outreach efforts for the Children's Environmental Health Initiative where he worked to uncover the long-term health, housing, and economic impacts of Hurricane Harvey on Texans.
He currently serves on the Inaugural Michigan Advisory Council on Environmental Justice under the direction of Governor Gretchen Whitmer. He was also recently appointed to the Democratic National Committee's Environment and Climate Crisis Council Platform Committee where he is one of 12 nationwide members responsible for helping develop recommendations for the climate, environment and energy planks of the 2020 Democratic Party Platform.
He firmly believes writing and other forms of communication should play a central role in moving people and policy and has been published in the New York Times, Guardian, Detroit News and Houston Chronicle.
Irene Franco Rubio
Activist. Writer. Organizer.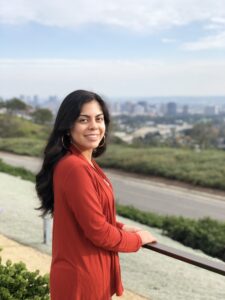 As an activist for social, racial, and environmental justice, Irene is committed to uplifting BIPOC communities in her hometown of Phoenix, Arizona and across the nation. Irene is a young woman of color of Guatemalan and Mexican descent devoted to the movement for change as an organizer, writer, and young person committed to advocating for historically oppressed populations. She has interned in the U.S. House of Representatives at the office of Congresswoman Deb Haaland, worked for Michelle Obama's non-profit, non-partisan organization When We All Vote, is a distinguish summer scholar at the Harris School of Public Policy at the University of Chicago and has received numerous academic scholarships and fellowships, ranging from ProPublica to the Marguerite Casey Foundation. Through a progressive and intersectional approach, Irene stands up against injustice by tackling the most pressing issues communities of color face as an advocate, intersectional thinker, media professional and change-maker.

Rishi Sugla
Earth science communicator, organizer, and storyteller
PhD Candidate, Scripps Institution of Oceanography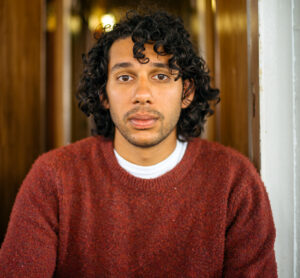 His research uses data from Earth's past to understand how environmental changes across Earth history affected oxygen concentrations in Earth's ocean and impacted the structure of marine ecosystems. He has formal interdisciplinary training through the Center of Marine Biodiversity and Conversation.
He is also involved in transnational climate and environmental justice organizing. In 2015, Rishi helped co-found the Center for Interdisciplinary Environmental Justice alongside other artists, organizers, and scholars that use their combined experiences to support struggles for decolonization. Besides creating workshops, holding talks/reading circles, and writing publicly to amplify the community's voices and bring awareness to the impacts many communities face, the organization also uses science as a strategic tool to support the autonomy and dignity of communities in the face of climate/environmental injustices.
As a storyteller, Rishi has helped work on the upcoming documentary "Salt and Sky" which tackles the nuances of "green" technology and it's environmentally destructive impacts to indigenous communities in the Andean Altiplano. He is also a scientific communicator, and writes for the website Tomorrow Unlocked. Recently, Rishi was part of the From Kurils with Love expedition across the remote Kuril Island Archipelago off the coast of Kamtchatka, Russia as a scientific communicator while assisting with cinematography. Rishi is co-leading the charge to raise support for an environmental monitoring program in this understudied part of the world.
Princella Talley
Diversity Outreach Coordinator and Development Associate, Citizens' Climate Education; Founder of OneGreen Society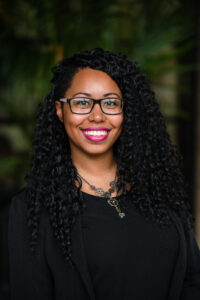 Princella Talley is a Diversity Outreach Coordinator and Development Associate at Citizens' Climate Education. Her roles include bringing more voices from underrepresented communities into the conversation for climate solutions and working as part of the Development Team. She is also the lead of the Climate and Culture Action Team, a team dedicated to working at the intersection of climate change and social justice issues.
Before joining the Citizens' Climate Education team, Princella spent more than a decade as a photographer and writer. She covered topics ranging from climate change and ecotourism to artificial intelligence and mobile app development for major news outlets with more than 60 million online visitors, independent publications, and tech startups in Silicon Valley. She's written for CBS Las Vegas, worked as a former copy editor for a digital publication with 135,000 weekly readers, and created content for a GRAMMYs campaign.
Princella is also the founder of the OneGreen Society nonprofit in Central Louisiana. Originally an environmentally-focused content creation service, OneGreen Society was re-envisioned to better serve local community needs by promoting arts as advocacy and supporting the implementation of sustainable food systems in economically disadvantaged communities.
Bianca Beatriz Taylor
Founder, Tourmaline Group LLC
Bianca Beatriz Taylor founded Tourmaline Group in 2019 following 18 years of consistently delivering top performing results as a sovereign credit analyst in the investment management industry. She worked at firms such as Loomis Sayles, Pantera Capital and Franklin Templeton Investments, where she provided strategic advice on Latin American investments. Bianca holds an MPP from UC Berkeley where she focused on energy and environmental policy, and a BA in business economics from UC Santa Barbara. She is fluent in English, Portuguese and Spanish. She also speaks French at an advanced level. Bianca is a citizen of the United States as well as Brazil.
Neelu Tummala, MD, MS
Clinical assistant professor of surgery, George Washington University School of
Medicine and Health Sciences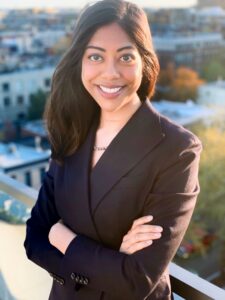 Dr. Neelu Tummala is a physician and clinical assistant professor of surgery at the George Washington University School of Medicine and Health Sciences. She completed medical school at Case Western Reserve University School of Medicine and residency in Otolaryngology- Head and Neck Surgery at Wake Forest University Baptist Medical Center.  She has a special interest in advocacy concerning the health effects of climate change, and has been actively involved with providing medical education as well as giving public testimony on this issue. She is a trained Climate Reality Leader and works with the American Lung Association, Virginia Clinicians for Climate Action, The Medical Society Consortium on Climate and Health, and Environment Virginia as a volunteer activist and educator.