---
4.1. Liberal Democrats and conservative Republicans have heard the most about the "Green New Deal."
More than half of registered voters (57%) have heard at least "a little" about the policy proposal called the "Green New Deal" (see section 4.2 for a description of the policy), and about one in five (21%) have heard "a lot" about it. Liberal Democrats are the most likely to have heard about the Green New Deal (74%), followed by conservative Republicans (66%), who are the most likely to report having heard "a lot" about it.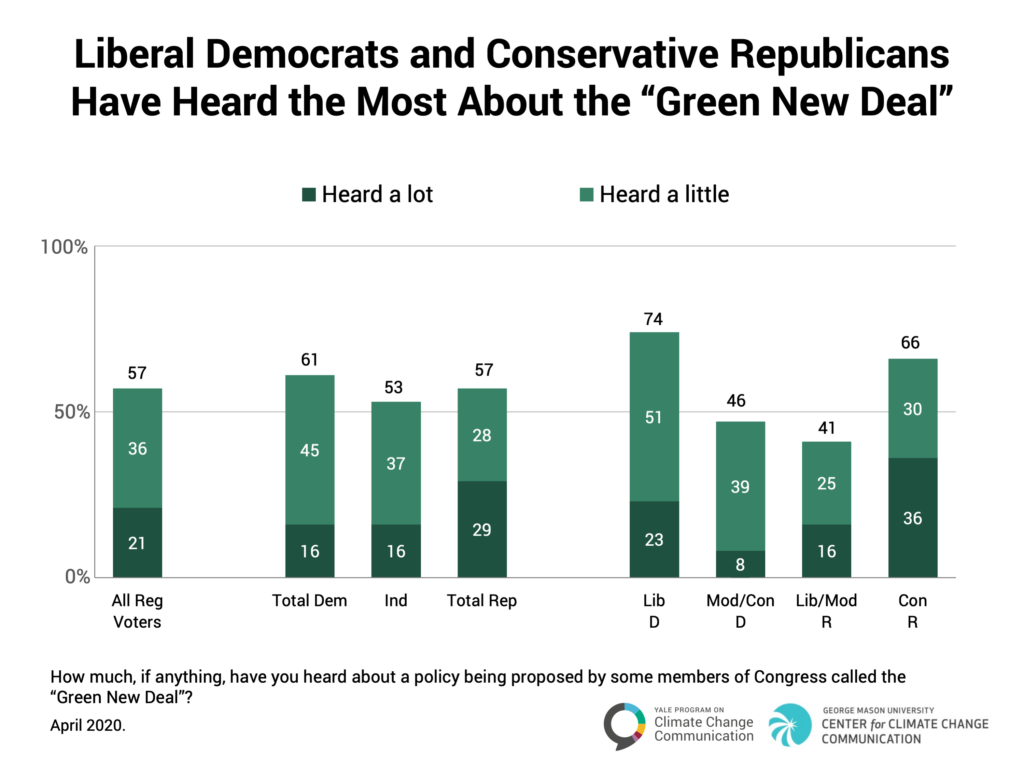 4.2. A majority of registered voters support a "Green New Deal."
As we reported last year, a majority of registered voters support the policy aspirations included in the Green New Deal, although support decreased during the time period between December 2018 and April 2019, particularly among conservative Republicans and regular viewers of the Fox News Channel.Gustafson, A., Rosenthal, S.A., Ballew, M.T., Goldberg, M. H., Bergquist, P., Kotcher, J. E., Maibach, E. W., & Leiserowitz, A. (2019). The development of partisan polarization over the Green New Deal. Nature Climate Change, 9, 940-944. https://doi.org/10.1038/s41558-019-0621-7 The description of the policy was summarized based on a 2018 policy report:https://www.dataforprogress.org/green-new-deal/#introduction "the Green New Deal will produce jobs and strengthen America's economy by accelerating the transition from fossil fuels to clean, renewable energy. The Deal would generate 100% of the nation's electricity from clean, renewable sources within the next 10 years; upgrade the nation's energy grid, buildings, and transportation infrastructure; increase energy efficiency; invest in green technology research and development; and provide training for jobs in the new green economy."
As of April 2020, about seven in ten registered voters (72%) support the Green New Deal as described above, including a large majority of Democrats (95%) and a majority of Independents (69%). About half of Republicans (48%), including two in three liberal/moderate Republicans (66%) but fewer conservative Republicans (37%) also support the Green New Deal. Support for the Green New Deal among those in the "middle" of the ideological spectrum has trended upward over the past year (since our April 2019 survey), with support among moderate/conservative Democrats, Independents, and liberal/moderate Republicans each increasing by five percentage points.