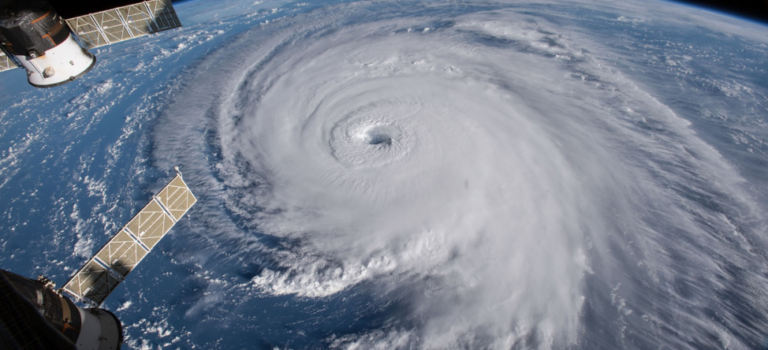 Hurricane Florence, as seen from the International Space Station on the morning of Wednesday, Sept 12. The National Hurricane Center expects Florence to increase in strength before making landfall on Friday, Sept 14, on the coastal Carolinas. photo: NASA Goddard Space Flight Center
---
Hurricane Florence is quickly approaching the southeastern United States and threatens to resemble Harvey in intensity. Scientists say that hurricanes and tropical storms are growing larger and more destructive due to climate change. However, many Americans in coastal areas are unaware of – and underprepared for – the increased risks.
Atmospheric scientist Kevin Trenberth explains that the intensity of last summer's Harvey is a direct result of record-breaking heat in the waters of the Gulf of Mexico during the preceding weeks. A recent study by James Kossin of the National Oceanic and Atmospheric Administration (NOAA) also shows that, because of climate change's effect on tropical atmospheric circulation, storms like Harvey and Florence move more slowly and "stall" over land. That is, rather than passing quickly over a particular area, these storms linger and dump torrential rains for an extended time in one place. In the case of Harvey, this resulted in devastating flooding across southern Texas.
Despite this trend, many coastal residents are either unaware of basic hurricane safety, underestimate the threat to themselves and their loved ones, or both.
A scientific study that surveyed 1,130 Connecticut residents who live in coastal evacuation zones found that 20% of them think they do not, in fact, live in an evacuation zone. An additional 50% are unsure. And a total of 74% of evacuation zone residents say they have never seen a map of local evacuation routes.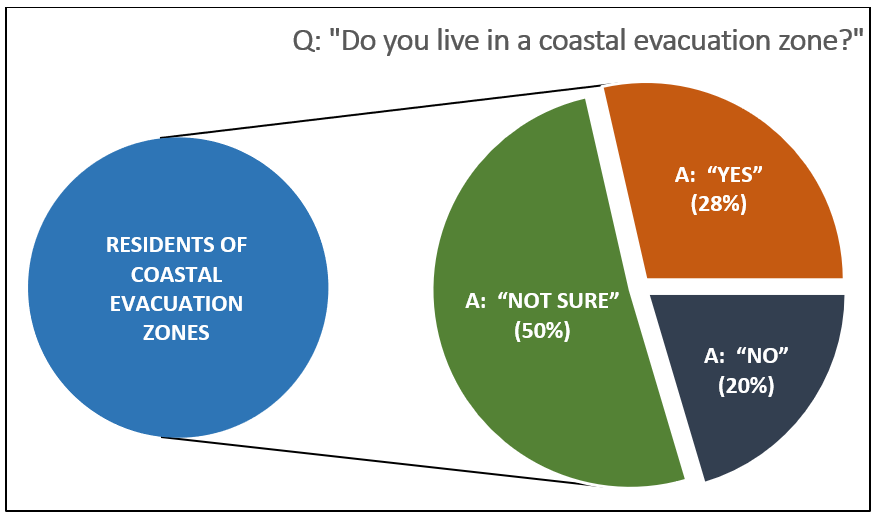 These findings may have a simple explanation: many people think they are safe right where they are, so there is little need to worry about evacuating.
The study of the residents in coastal evacuation zones reported that, when asked whether it is safer to evacuate or to stay in your home during a Category 2 hurricane (100 MPH winds), more than one third of these residents think it is "somewhat" or "much" safer to stay – not evacuate. Another third said the safety of those two options is about the same.  Only 31% felt that evacuation is safer.
The researchers also found that coastal CT residents can be grouped into five distinct groups (below), based on how they respond to impending hurricanes. The "First Out" are the most likely to evacuate during a hurricane whereas the "Diehards" are the least likely to leave.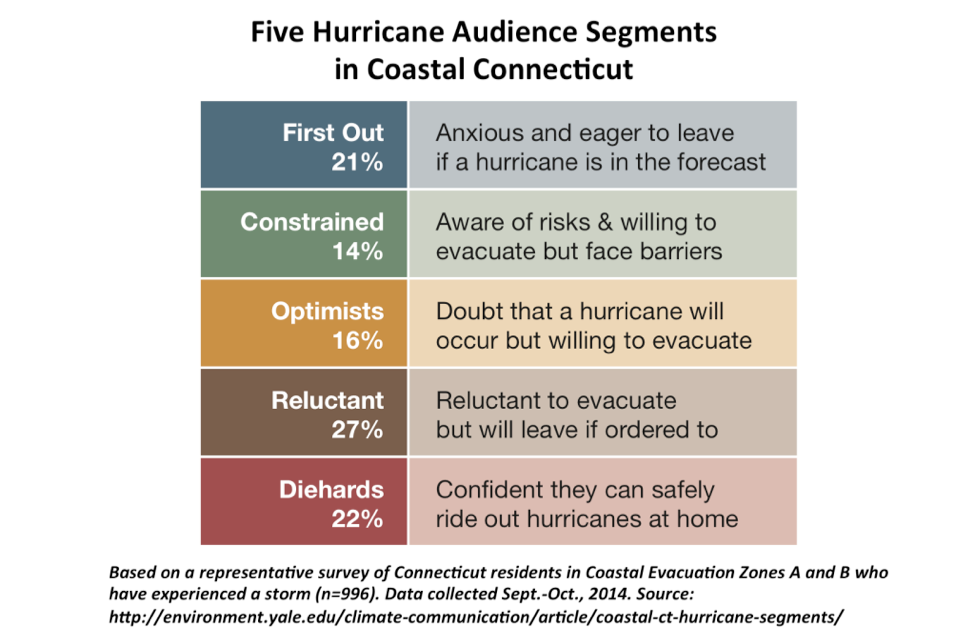 Akin to horses and drinking water, it seems that providing coastal residents with early and accurate storm warnings often does not result in appropriate action.
Still, it is important to consider that many people living in evacuation zones have specific reasons for being reluctant or flat-out unwilling to evacuate. The study found that leading barriers to evacuation include insufficient money (17% of residents) or poor physical health (18%), both of which make evacuation extremely difficult. Another reason given by residents was a desire to attempt to protect their home or business (18%) and their pets or animals (17%).
To make evacuations more feasible for coastal residents – in Connecticut and beyond – various organizations and agencies have provided resources and information that can assist in the event of a hurricane or tropical storm. For example, Ready.gov provides a list of the best ways to stay safe and prepared before, during, and after a hurricane. Also, the National Weather Service provides updated reports on the status and projected paths of hurricanes and tropical storms.
For many coastal areas, there are easy online tools that can determine whether or not you do, in fact, live in an evacuation zone or other high-risk area. These include tools for Florida, South Carolina, Virginia, New York City, Houston, Louisiana, Massachusetts, Maryland, Connecticut, and many others.