---
The Atlantic hurricane season, lasting from June 1 to November 30, is upon us. Two named tropical storms, Arthur and Bertha, arrived before the official start date of the season, and tropical storm Cristobal was the earliest third named storm on record. Douglas intensified quickly as it approached Hawaii but thankfully tracked north of the islands. Meanwhile, hurricane Hanna brought heavy rains and flooding to parts of Texas already reeling from the coronavirus pandemic. The National Oceanic and Atmospheric Administration (NOAA) has predicted an especially busy hurricane season, with a high probability of six to 10 hurricanes. 
The Intergovernmental Panel on Climate Change's (IPCC) special report on the impacts of global warming of 1.5 °C above pre-industrial levels indicates that globally, the most intense (categories 4 and 5) cyclones are projected to occur more frequently. The build-up of heat-trapping gases in our atmosphere has already worsened several hurricanes in the U.S., for example, increasing the heavy precipitation associated with Hurricane Harvey in 2017 by about 15% or more.
Our newly updated Climate Opinion Factsheets tool describes the views of residents in states along the south-eastern coast of the United States that are most often hit by hurricanes. The tool allows you to construct a customized Factsheet (in English or Spanish) from 24 key measures of public climate change knowledge, attitudes, policy support, and behavior for each of the 50 states, 435 congressional districts, and 3,142 counties across the U.S.
Florida has been directly hit by 117 hurricanes between 1851 and 2017, ranking first among all states for direct hits. Texas, Louisiana, North Carolina and South Carolina have also experienced frequent direct hits. More than half of the residents of these five states believe global warming is affecting the weather, and that global warming will harm people in the U.S. Florida is among the states with the highest percentage of residents who believe global warming is affecting the weather and perceive it as a risk. Residents are less likely, however, to think that global warming will cause personal harm. On average, about four in ten residents across these five states think global warming will harm them personally.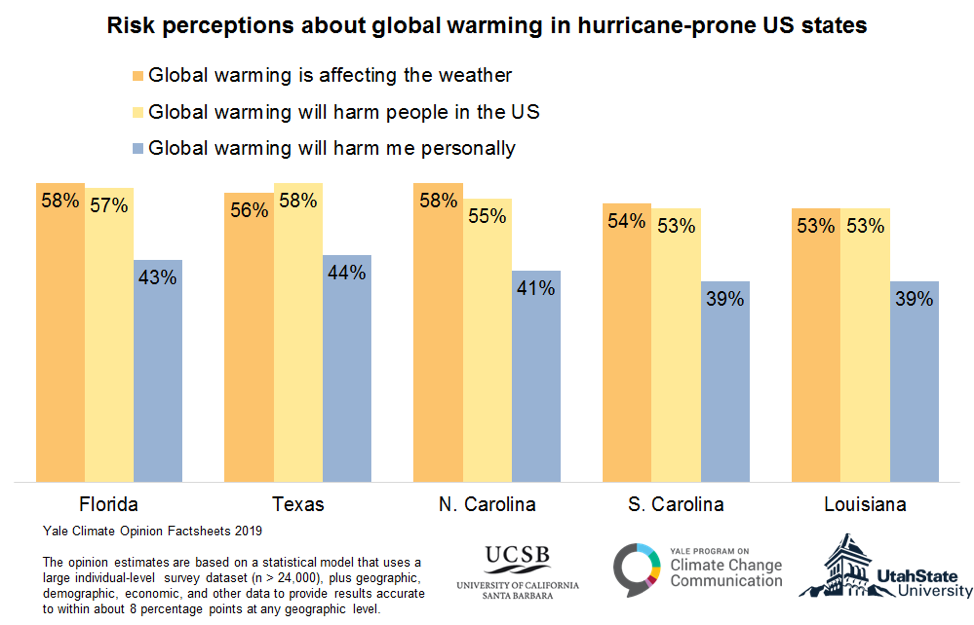 Among hurricane-prone states, there are differences in people's beliefs about global warming. Florida residents are more likely to believe that global warming is happening (68%) while Louisiana residents are less likely to believe so (62%). Also, Texas has a greater percentage of residents worried about global warming (60%) while Louisiana has a lower percentage of worried residents (55%).
Despite their long history of hurricanes and the prospect of increasing damages, residents from all these states are slightly less likely to discuss it compared to the general U.S. population. Nationally, about 36% of adults discuss global warming at least occasionally, compared to 34% residents of Texas, Florida and North Carolina, 32% residents of South Carolina, and only 30% in Louisiana.
The Florida Climate Opinion Factsheet shows that Floridians in several coastal counties, especially around Miami, are more worried about global warming than those in other counties. Similarly in Texas, some coastal counties closer to the Mexican border are more worried than others. However, the Louisiana Climate Opinion Factsheet reveals a more scattered distribution of county-level public opinion about climate change. In North Carolina, which has been hit by 51 hurricanes in the historic record (three more than Louisiana), residents of counties closer to the coast are more concerned about climate change than those farther inland.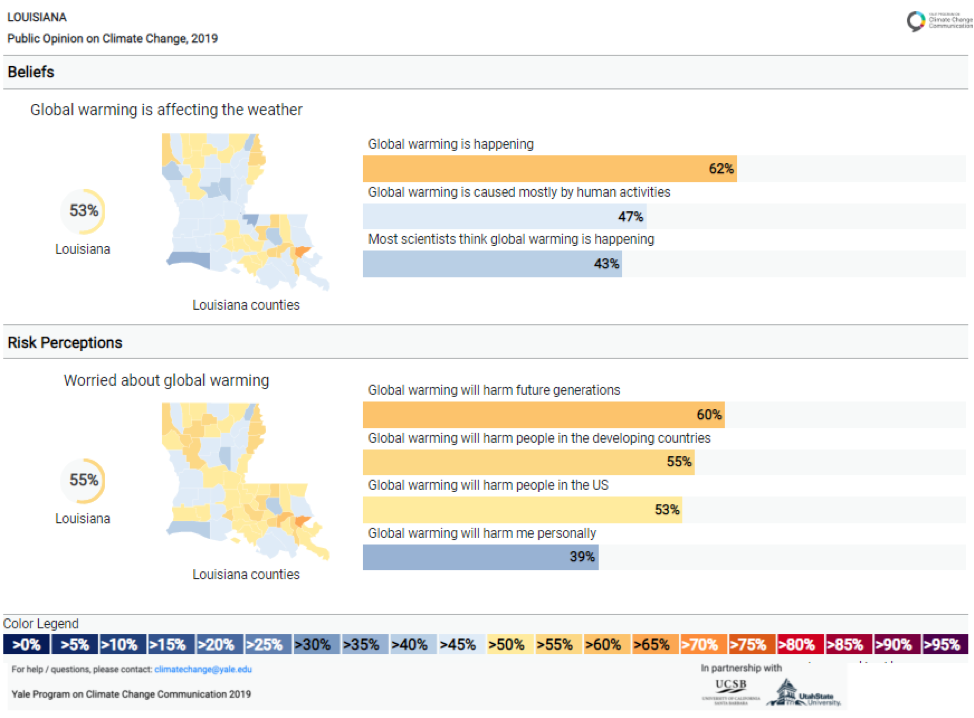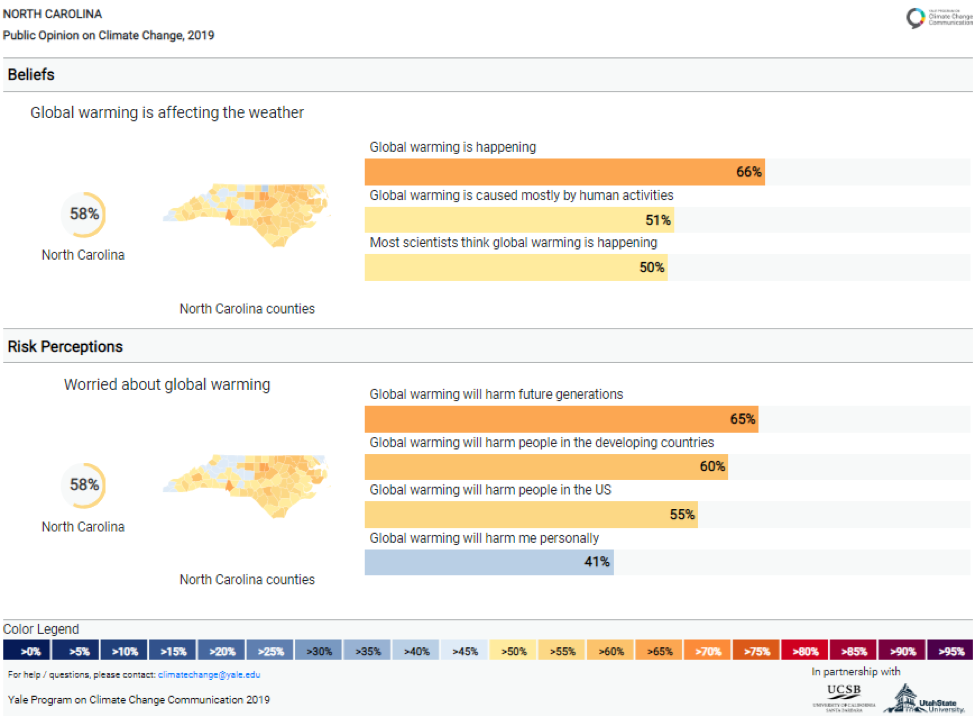 The Climate Opinion Factsheets reveal interesting geographic variations in public opinion and highlight important gaps between actual risk and people's perception of that risk. Despite being the third-most hurricane prone state, residents of Louisiana, for example, are not as worried about global warming as those in other states, despite the fact that global warming is making hurricanes worse. When residents are unaware of the risks from extreme weather, they are more vulnerable to the impacts of those hazards because they are less likely to prepare for them. Such misperceptions can also affect how likely people are to evacuate when threatened by major hurricanes, as well as how much they may support policies designed to reduce the carbon pollution that causes global warming, mitigate coastal flooding, or build community resilience to extreme weather. Understanding local climate change risk perceptions can also help companies market specific products or services based on public opinion in a region.
You can find more interesting findings using YPCCC's updated Climate Opinion Factsheets tool. Many thanks to Urvi Talaty, who authored this analysis. For more information about the methodology behind the numbers, please see our peer-reviewed paper: Howe, P., Mildenberger, M., Marlon, J.R., and Leiserowitz, A., "Geographic variation in opinions on climate change at state and local scales in the USA," Nature Climate Change. DOI: 10.1038/nclimate2583.