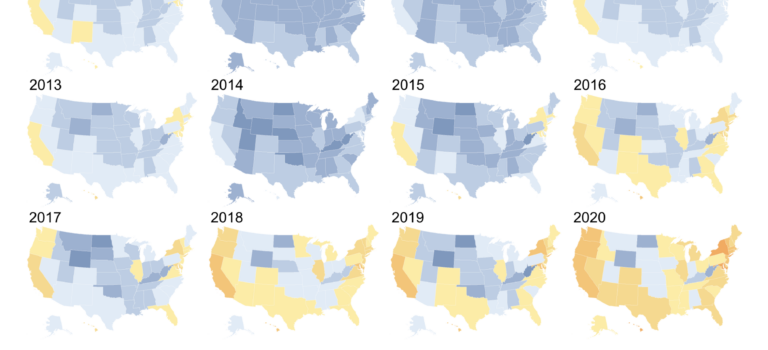 ---
We are pleased to announce the publication of a new article, "Change in US state-level public opinion about climate change: 2008-2020" in the journal Environmental Research Letters.
Americans' attitudes toward global warming are changing. Our own surveys in the US, as well as data from other researchers, show that public understanding that global warming is happening, that humans are responsible, and that there is a scientific consensus about these facts have increased over the past decade. We know much less, however, about how such opinions have changed sub-nationally, such as at the state level. Understanding state-level opinions is important because many climate and energy policies have to be enacted by state leaders. Having information about state-level trends in public opinion can also help policy- and decision-makers understand how people's beliefs and attitudes are changing on climate and energy over time.
We find that public perceptions that global warming is already harming and will harm the US increased in every state from 2008 to 2020 (see figure), as did the overall importance of global warming as an issue. Public support for policies to address global warming was generally stable in states with a more conservative population, but increased in states with a more liberal population, like California and New York.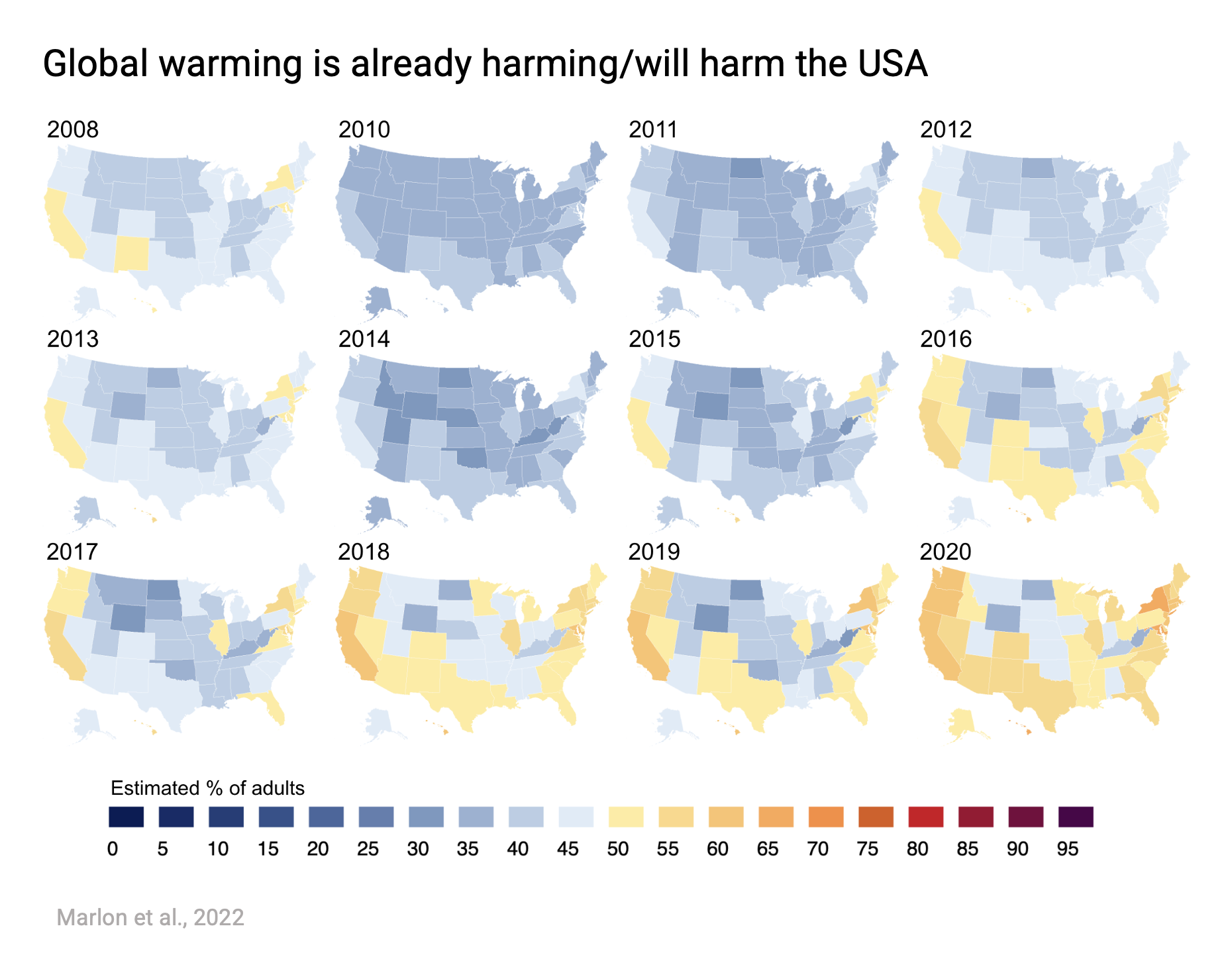 Understanding that there is a consensus among scientists that global warming is happening increased in every state by about 16 percentage points on average over the 13-year time period. From 2008 to 2020, more people in every state also said that global warming is important to them (+9 percentage points) and that it will harm future generations (+9 percentage points), people in the US (+14 percentage points), and them personally (+11 percentage points). Some states showed particularly strong increases — for example, Utahns increased their understanding of the scientific consensus by 22 percentage points, and worry among Idahoans increased by 11 percentage points from 2015 to 2020.
More people said Congress and local officials should do more about global warming (+4 percentage points and +5 percentage points, respectively over the 13 years), but there was little change in state-level views about funding research into renewable energy or regulating carbon dioxide as a pollutant. The smaller change for these policies may be due to a 'ceiling effect' – strong majorities in every state have long shown consistent support for these policies.
Perhaps surprisingly, there was virtually no change at the state level from 2008 to 2020 in how often people reported talking about global warming with family and friends.
You can find more state-level maps from this study here. 
The full open-access article with many other results is available here at Environmental Research Letters. 
For all media and other inquiries, please email:
Yale Program on Climate Change Communication: Lisa Fernandez (lisa.fernandez@yale.edu), Jon Ozaksut (jon.ozaksut@yale.edu), and Eric Fine (eric.fine@yale.edu)
George Mason University Center for Climate Change Communication: Edward Maibach (emaibach@gmu.edu) and John Kotcher (jkotcher@gmu.edu)
Climate Change in the American Mind is conducted jointly by the Yale Program on Climate Change Communication and the George Mason University Center for Climate Change Communication.