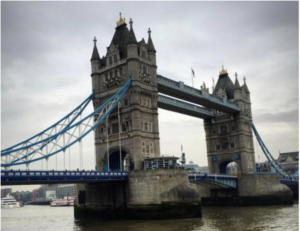 Yale College graduate Rohan Naik '18 researched how air pollution in London affects the city's most vulnerable residents for an article recently published in Pacific Standard: Silent killer: In London, air pollution has become a matter of life and death.
The city first battled with air pollution during the Great Smog of 1952, during which thousands died in a matter of days due to emissions from coal burning. Although legislative efforts to curb the pollution were thought to have solved the problem, a similar crisis has emerged in recent decades. Diesel-powered motor vehicles are emitting harmful nitrogen dioxide and particulate matter– with serious consequences for public health. With nearly 10,000 people dying every year from air pollution, Mayor Sadiq Khan, along with a group of NGO's,  is spearheading efforts to rein in emissions once again.
Efforts to mitigate the consequences have focused primarily on children, who are especially susceptible to the adverse effects of air pollution. Similarly, publicity campaigns trying to communicate the severity of the problem have followed suit by putting children in the spotlight. Although this focus appeals to a broad audience, it also means that efforts can fail to acknowledge and address disproportionate impacts on minority communities.
---
Rohan's work was made possible by a fellowship and travel grant under the partnership on climate change journalism between YPCCC and the Pulitzer Center on Crisis Reporting.
He also produced a photo essay accompanying his piece, made available through the Pulitzer Center: The Unseen Reality of Air Pollution.
Rohan writes:
My piece investigates air pollution in London and its effect on the city's most vulnerable communities. It also considers the notion of historical memory, and if memory of a recent environmental disaster, the Great Smog in the 1950's, influenced public decision on climate change. I had chosen London because it has long struggled with air pollution, and the city counters the narrative that these problems exist only in countries in the Global South. With the help of the Pulitzer Center and the Yale Program on Climate Change Communication, I spent a month in London interviewing scientists, activists, and ordinary citizens to understand the problem.