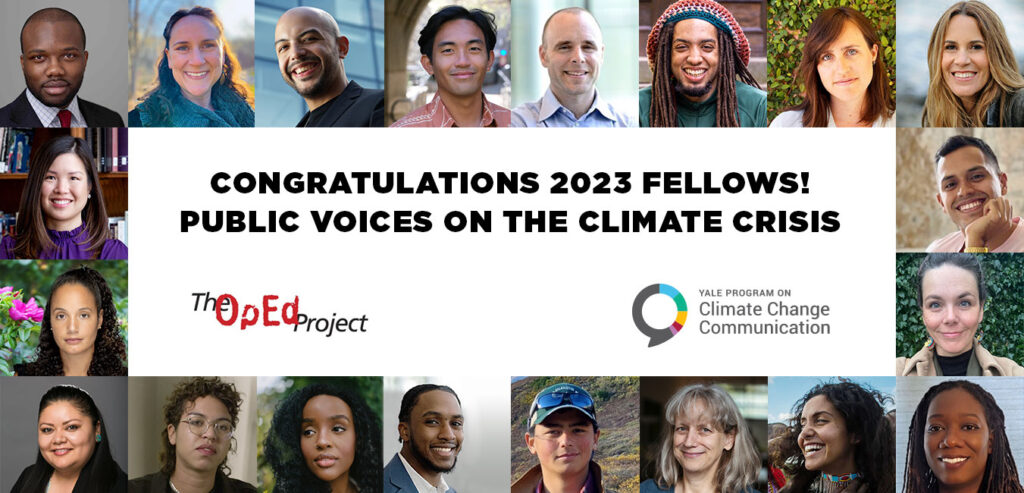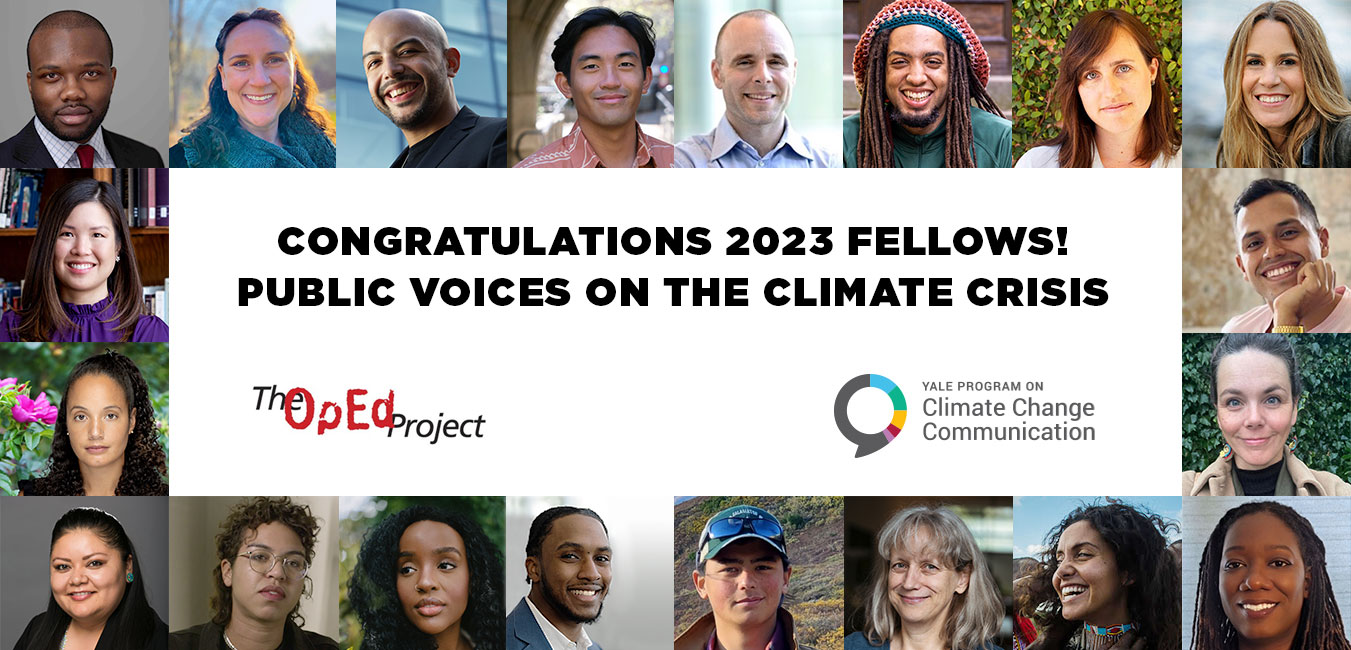 The climate crisis affects all of us, but its impacts are unevenly and unjustly distributed.  Those with the greatest power to mitigate and adapt to climate change often have the least incentive to do so, across geography, wealth, age, race, and gender.
There is an urgent need for new ideas from a diversity of individuals, across geography, wealth, age, race, and gender, including those most impacted by climate change. From them, we can learn new solutions and envision a more just future.
The YPCCC is delighted to continue its partnership with The OpEd Project to sponsor the Public Voices Fellowship on the Climate Crisis. This Fellowship is part of The OpEd Project's national Public Voices initiative to change who writes history. It is part of YPCCC's work to diversify and amplify the voices behind climate change action.
Today we are pleased to announce the 20 Fellows of our fourth cohort. They were chosen from a large and competitive field . The 20 fellows demonstrate high-powered thought leadership in a variety of ways, including education, community organizing, public writing, and advocacy. Some speak for a younger generation, others bring the wisdom of decades of experience. Some engage faith communities, and others advocate for vulnerable, or historically underrepresented, communities. Some are innovating new ways to justly mitigate climate change, others are giving voice to the histories and stories of the climate movement. They all seek solutions.
Please join us in congratulating the fourth class of the Public Voices Fellowship on the Climate Crisis.
Katie Brimm
Co-Founder, Co-Director, Farmer Campus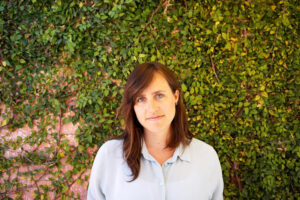 Katie Brimm has had a lifelong fascination with the nexus of humans and the natural world, and uses food and agriculture as the lens from which to explore it. She has worked for over a decade in the food movement as an educator, storyteller, activist, & no-till farmer. Growing up on a ranch at the headwaters of the Colorado river gave her an early connection to the importance of land stewardship, collective action and a curiosity around how food and climate connect humans across the world. Katie ran an international solidarity travel program focusing on the social movement around Food Sovereignty where she gained an intimate connection to international and local issues, leading her to co-found Farmer Campus, an online learning platform for agriculturalists. Katie has run four successful education projects all related to climate resilience and socio-environmental justice. Over the past 6 years she's collected case studies of small farmers' experiences of impact around climate and increasingly devastating wildfires in the West. As an educator, speaker and a freelance writer, she works to center underrepresented voices and issues in the food movement. Her work has been featured in anti-racism, food sovereignty, climate and queer ecology trainings across the country.   Katie has a BA in Global Studies from UC Santa Barbara, certificates in Visionary Leadership, Agroecology & Sustainability, and is a Lexicon fellow through the Reawakened project – a collective of international storytellers working with farmers, scientists, entrepreneurs, and food activists to share the re-emergence of forgotten crops across the globe and the communities and cultures they preserve. She is currently getting her Masters in English through Middlebury College. After 13 years in Northern California, she works from a small town in Colorado with her dog Posie.
Reba Elliott
Senior Director for Strategy, Planning, and Special Projects, Laudato Si' Movement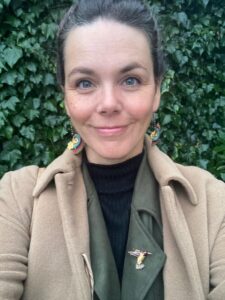 Reba Elliott is the Senior Director of Strategy, Planning, and Special Projects at Laudato Si' Movement, a global network of Catholic people and institutions working for climate and ecological justice. Reba brings 15 years of leadership to her role. Recent global projects have engaged 10M+ people, including leading the campaign for The Letter, a documentary film on frontline leaders and Pope Francis; spearheading the creation of a sustainability platform with a nationally relevant Scope 1 and Scope 2 emissions calculator and guidance on high-impact actions; and developing systems for communications to engage new audiences. Her leadership of local campaigns includes developing the advocacy infrastructure that led to a $4.5 million investment in carbon reductions and overseeing the creation of 150+ local climate action teams. She now leads Laudato Si' Movement's organizational strategy, planning, and evaluation processes to activate the world's 1.2 billion Catholics in the race for solutions to the climate and biodiversity crises. In her volunteer time, she serves as a board member and strategic advisor to organizations working on nature and the moral injury of the war in Afghanistan.She lives near the Blue Ridge Mountains with her family, chickens, and a giant dog. 
Michael Esealuka
Organizer, Healthy Gulf
Michael Esealuka is a filmmaker and organizer based in New Orleans.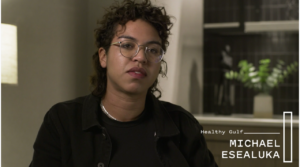 Esealuka supports communities throughout the Gulf South who are resisting fossil fuel buildout and fighting for a just energy transition. As an organizer and storyteller, Esealuka strives to use every tool available to educate the public about systems of injustice and elevate the frontline community voices largely unrepresented in mainstream climate media. In their free time, they enjoy drawing, gardening and karaoke.
Eric Fine
Project Manager, Yale Program on Climate Change Communication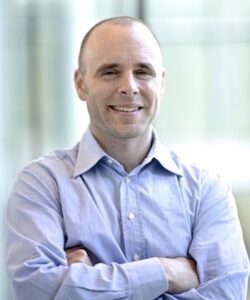 In his seven years with the YPCCC, Eric has worn many hats from expanding the program's work into Latin America to supporting U.S. groups working with Latino communities on climate, helping partner organizations better understand and engage their audiences, managing fellowships, presenting on research and tools, and running workshops on climate communications. Prior to YPCCC, Eric was an outdoor educator taking people on expeditions throughout the Americas and Europe. Watching glaciers recede in Patagonia over ten years inspired him to pursue a Masters of Environmental Science at Yale's School of Forestry and Environmental Studies with a focus on public perception of climate change in Argentina and Latin America.
Wawa Gatheru
Founder & Executive Director, Black Girl Environmentalist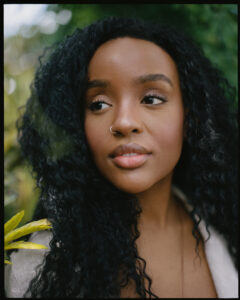 Wawa Gatheru is an environmental justice advocate and storyteller passionate about cultivating a climate movement that is made in the image of all of us. In 2019, Wawa made history as the first Black person in history to receive the Rhodes, Truman, and Udall scholarships. She is the founder and Executive Director of Black Girl Environmentalist, an organization dedicated to empowering Black girls, women, and non-binary people across environmental disciplines. 
As a content creator, Wawa combats climate nihilism and highlights the legacies of those traditionally sidelined from mainstream environmentalism to her audience of over 80,000+ across platforms.  
She has earned a BA in Environmental Studies and a Master's in Environmental Governance at the University of Oxford. She sits on boards and advisory councils for the Environmental Media Association, EarthJustice, Climate Power, and Sound Future.
For her work, Wawa has been recognized as a Young Futurist by The Root, a Grist 50 FIXER, a Glamour College Woman of the Year, named a Climate Creator to Watch by Pique Action and the Harvard T.H. Chan School of Public Health, and was featured on the January 2023 cover of Vogue alongside Billie Eilish.
Rwaida Gharib
Founder, Rwaida LLC (Strategic Consulting Firm)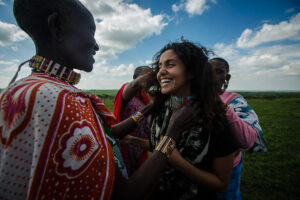 Rwaida is a senior consultant for the World Bank Group, supporting the climate finance practice of the International Finance Corporation and energy access/just transition activities for ESMAP. Her work has helped expand investments in the blue economy, build strategic partnerships for green banking, and increase global access to energy for women and refugees in the developing world.
She is an expert at the strategic integration of advocacy and communications to promote climate mitigation, empower vulnerable populations, and advance gender equality. As a consultant, she has also advised UNDP's Nature for Life and Biodiversity and Equator Prize for indigenous communities; Conservation X Lab in developing global prize competitions for microfiber reduction and responsible mining practices; and multiple USAID projects spanning gender based violence, energy efficiency, and global innovation.
Previously, she led strategic communications and initiatives for President Barack Obama's Power Africa initiative, which aimed to increase access to energy in sub Saharan Africa for the the millions of people living without electricity. Through storytelling, her team was able to advocate for policy changes, build public-private partnerships, and secure billions of dollars of funding for energy infrastructure. Rwaida was a presidential appointee and held multiple positions during the Obama Administration at USAID and the US Department of State.
A Southern California native, she was lucky to spend her childhood steeped in nature between the Mojave desert, the San Gabriel Mountains, and the Pacific Ocean. Rwaida was born on the Red Sea to Egyptian parents, and returns to Egypt often to dive among the Great Fringing Reef.
She is committed to telling the stories of the people, the trees, and the environments that give life to this planet.
Ashley Hemmers
Tribal Administrator of the Fort Mojave Indian Tribe, Yale College 2007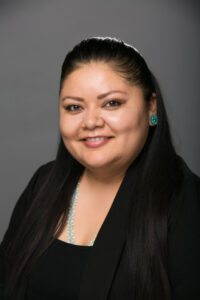 Ashley is an enrolled member of the Fort Mojave Indian Tribe, a Federally Recognized Indian Tribe, whose reservation spans the states of California, Arizona, & Nevada. She is the Tribal Administrator for her Nation, and she specializes in multi-state cross-jurisdictional development & management of Tribal economies and government. She holds over 15 years of experience in Tribal enterprising, operational development, & sovereign resource management with emphasis in fiscal & capital wealth strategies, Nevada gaming, and public service operations. Ashley holds a B.A. from Yale University, and a Graduate Certificate in Non-Profit Management & Masters of Public Administration from the University of Nevada, Las Vegas. She enjoys creating dialogue with Tribal Nations & federal/state stakeholders as well as sharing content that amplifies indigenous voices in the areas of business management, social policy, and climate action. You can connect with her on LinkedIn at /ashleyhemmers, or follow her on Instagram @tribalreclamation.
Lisa Hoyos
Senior Director of Climate Strategy, League of Conservation Voters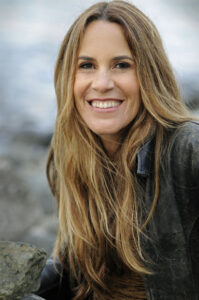 Lisa Hoyos is the Senior Director for Climate Strategy at the National League of Conservation Voters (LCV). She drives campaigns to scale transformative climate solutions, including the implementation of the historic clean energy investments in the Inflation Reduction Act. Before this, she led a student and parent-centered campaign at Sierra Club that successfully moved major school districts around the country to transition to 100% clean energy. Lisa also co-founded Climate Parents, running a campaign that stopped legislatures and state school boards from banning climate science education in K-12 schools in more than ten fossil fuel states. 
Lisa has led issue advocacy campaigns in the environmental and labor movements for over three decades with organizations including the BlueGreen Alliance, the national AFL-CIO, SEIU's Justice for Janitors campaign, and Greenpeace. As Political Director of a large urban Labor Council, Lisa ran coordinated electoral campaigns to elect progressive local, state, and federal candidates.
Lisa is on the boards of Action for the Climate Emergency, the Climate Advocacy Lab, and the Labor Network for Sustainability, and she served on the Aspen Institute K-12 Climate Commission. Lisa is Latina and bilingual. She lives with her husband and two teenage boys in San Francisco. 
Christine Keating
Army Officer, U.S. Army & Graduate Student in Environmental Sciences and Policy, Johns Hopkins University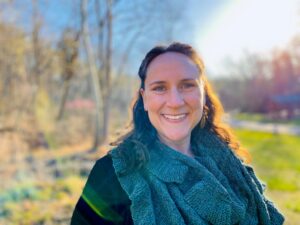 Christine Keating is a writer, artist, and decorated combat veteran with nearly two decades of military service. Her interest in climate change arose from a career spent observing humanitarian crises firsthand and witnessing how those crises were exacerbated by rising global temperatures. She believes that by forecasting evolving circumstances like freshwater access and farmland arability, we can prevent or mitigate violent conflicts and their ensuing humanitarian crises.
Christine is a brilliant strategist and a gifted storyteller. She holds degrees from West Point and Brown University, and has served as an assistant professor at West Point and a strategic planner at senior military echelons. In 2022, she participated in an interdisciplinary, all-women's expedition studying effects of climate change on marine mammal populations 600 km north of the Arctic Circle. Approaching military retirement, Christine plans to transition to a career at the intersection of climate change and humanitarian relief. She is pursuing an MS in Environmental Sciences and Policy at Johns Hopkins; she is also a 2022 Kentucky Foundation for Women Artist Enrichment awardee, a two-time Omar Bradley Historical Research Fellow, and a published academic author.
Raised in upstate New York, Christine lives in Kentucky with her spouse and their four children.
Betty Lai
Associate Professor, Department of Counseling, Developmental, and Educational Psychology; Lynch School of Education and Human Development, Boston College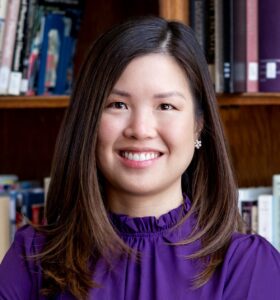 Betty Lai is an Associate Professor in Counseling, Developmental, and Educational Psychology at Boston College. Dr. Lai's research focuses on the impacts of the climate crisis and disasters (e.g., hurricanes, floods, wildfires) on children. She has over 20 years of experience working with children, first as a middle school teacher, then as a child psychologist, and now as an educator who trains future psychologists, mental health counselors, and school counselors. Recent projects have examined how schools may support children in the context of extreme weather events, which are increasing due to climate change. Her work has been funded by the National Science Foundation, the National Institute of Mental Health, and the Gulf Research Program of the National Academies of Sciences, Engineering, and Medicine, among others. These efforts have been recognized with awards from the American Psychological Association and the American Educational Research Association. Dr. Lai is the author of The Grant Writing Guide (Princeton University Press). She has published over 100 articles and chapters and provided commentary in The New York Times, Huffington Post, and other media outlets. 
Shane J. Lee
Program Coordinator, Sustain Our Future Foundation
Shane J. Lee is an Environmental Justice professional and graduate of Virginia Tech. While a student at Virginia Tech, Shane graduated Phi Beta Kappa and Summa Cum Laude with dual degrees in Political Science & Philosophy, Politics & Economics (PPE). Currently, he serves as the program coordinator for the Sustain Our Future Foundation, where he is transforming sustainability to redistribute funds to marginalized communities. In the past, he has served as an intern for Friends of the Earth, the American Council on Renewable Energy and the Clean Energy Buyers Institute. 
Previously, Shane was awarded the Gilman Scholarship for solar energy equity research in South Africa. While in South Africa, Shane examined Black energy inequality caused by Load Shedding and Post-Apartheid policies. Through his South African experience, Shane has published research and been accepted into the National Conference of Undergraduate Research, The Virginia Conference on Race and the Mid-Atlantic Regional Conference for Undergraduate Scholarship. Additionally, he has served as a student leader with the Virginia Center for Inclusive Communities (VCIC), where he has helped organize state and nationwide student conferences.
Bakeyah Nelson
Principal, Community Health Collaborative Consulting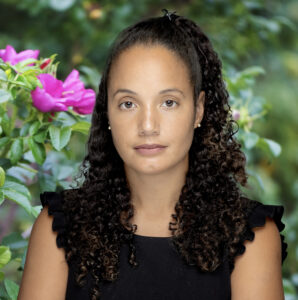 Bakeyah Nelson, PhD is Principal of Community Health Collaborative Consulting, where she partners with community, nonprofit and philanthropic partners to move environmental justice, climate justice and health equity forward. Bakeyah previously served as the Global Initiative Director for Climate Imperative Foundation, as Executive Director of Air Alliance Houston and in Harris County Public Health's Office of Policy and Planning, where she led environmental justice and health equity initiatives.  She serves on the boards of several foundations, has authored opinion pieces about environmental injustice in the Gulf Coast, and is recognized as a collaborative leader dedicated to advancing climate and environmental justice.  Bakeyah is a Senior Fellow of Class XLVI of the American Leadership Forum, she was named the 2020 Texas Energy Summit's 'Clean Air Champion of the Year', selected as an Aspen Institute Health Fellow in 2019, and honored in 2018 as a 'Community Champion of the Year' by the Texas Organizing Project. Bakeyah's doctorate in public policy, master's in applied sociology and bachelor's degree in psychology all come from the University of Maryland, Baltimore County.  She is a Contributing Faculty Member at Baylor University in the Department of Public Health.
Chika Okafor
Lecturer on Law and inaugural Fellow in Law and Political Economy, Harvard Law School; PhD candidate in economics, Harvard University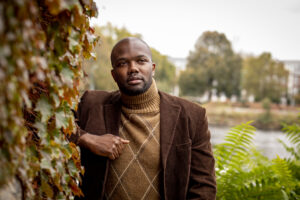 Chika Okafor is an economics PhD candidate at Harvard University, and Lecturer at Harvard Law School.  Before his PhD studies, Chika earned a JD from Yale Law School and a BA in economics from Stanford University.  Motivated by a longstanding dedication to confronting major societal problems, Chika pursues research integrating economics, law, and public policy to explore foundational matters of justice arising from major economic and social problems—with recent and growing focus on climate change. 
Chika's academic pursuits complement his prior mission-driven work addressing complex societal issues at the local, national, and international level.  He has spearheaded local violence prevention efforts with the Chicago Public Schools "Culture of Calm" initiative, supported national policy with stints at the NAACP Legal Defense Fund and Capitol Hill, and promoted international human rights as the Tom & Andi Bernstein Human Rights Fellow at the U.S. Holocaust Memorial Museum's Simon-Skjodt Center for the Prevention of Genocide.
Through the twin pillars of his work—academia and public service—Chika aspires not to individualistically "change the world," per se, but rather to motivate enough people into believing for themselves that attempting to do so is worthwhile.  He recognizes such collective belief may be a precondition for halting climate change.
Daniel Pimentel
Assistant Professor of Immersive Media Psychology, University of Oregon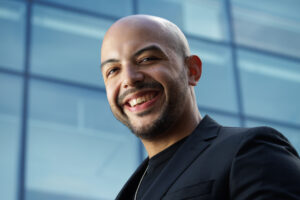 Dr. Danny Pimentel is an Assistant Professor of Immersive Media Psychology & an Environment Initiative Fellow at the University of Oregon. His research explores how extended reality (XR) technologies – augmented and virtual reality (AR/VR) – can inspire prosocial and pro-environmental attitude and behavior change in various contexts. His work has been published in reputed academic journals and conferences, including Nature Scientific Reports, The Journal for Nature Conservation, and IEEEVR, among others. Danny is also a co-founder of IREEF, and an organization dedicated to highlighting and understanding how XR experiences can facilitate marine education and ocean literacy. He serves as Research Advisor for The Hydrous, a non-profit dedicated to building ocean empathy through immersive storytelling, and as Lead XR Specialist for Yellow Wood Immersive, an experimental storytelling collective in Miami dedicated to social and environmental impact. His sea turtle conservation game "Project SHELL" received grant funding and support from The Sea Turtle Conservancy, National Geographic, and Meta's Launch Pad program, with other experiences yielding awards from Games for Change, Meta, and others. As an Official Lens Creator for Snapchat, Danny's wildlife conservation XR experience was nominated for "Best AR Lens" in the Environmental and Social Good category at Lens Fest '21.
Rosanita Ratcliff
Disability Advocate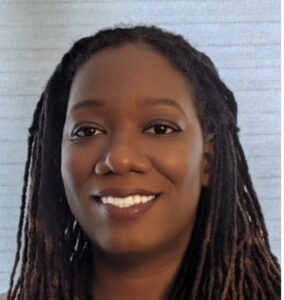 Rosanita Ratcliff is a former special education teacher and disability advocate based in Ann Arbor, Michigan. Much of her work as an advocate is in the areas of climate action, healthcare, employment, housing, education, and transportation. Rosanita has served on various boards and commissions, representing people with disabilities, to make sure disability accessibility is included in planning and solutions. Rosanita is a graduate of Arizona State University.
Luis Alexis Rodríguez-Cruz
Scientist, writer, and consultant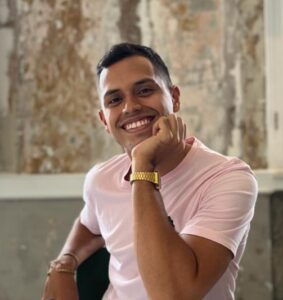 Luis Alexis Rodríguez Cruz brings visibility and understanding to food systems issues in Puerto Rico and beyond through science and storytelling. His works have taken him from labs to classrooms, and from fisheries to farms and forests. Luis draws from his multifaceted background and cultural identity to inform his approaches as an applied scientist and writer. His work explores social-ecological interactions in relation to agricultural sustainability, vulnerability to natural hazards, and public health outcomes, in the context of the climate crisis. Luis has over 6 years of experience leading and designing interdisciplinary research projects, and has work in the academic, governmental, and non-governmental sectors. His research has been published in open-access journals, and his writing has appeared in El Nuevo Día, NextCity, Ochenta grados, Science, among others. Luis holds a PhD in food systems from the University of Vermont, and a MS in food science and technology and a BS in biology from the Mayaguez and Ponce campuses of the University of Puerto Rico, respectively. "Al otro lado", his new collection of short stories, will be published in Spring 2023. 
Sam Schimmel
Founder of Operation Fish Drop || Co- Chair of the Cook Inlet Tribal Fish Commission Siberian Yupik and Kenaitze Indian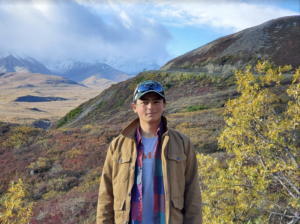 Sam is Siberian Yupik and Kenaitze Indian from Kenai, Alaska.  He was selected as a UNITY 25 Under 25 honoree for creating Operation Fish Drop, a program that has brought more than 20,000 pounds of salmon to Alaska Native Elders and families facing food insecurity. He is an avid subsistence fisherman and harvester and works to combat suicide, drug abuse, and cultural erosion.  Having seen the effects of climate change in Alaska firsthand, Sam works to raise awareness of its impacts on tribal communities and Native food systems. Sam graduated from Stanford University and is currently at Georgetown law. 
Daniel Torres Balauro
Senior, Swarthmore College & Executive Director, American Samoa Climate Action Network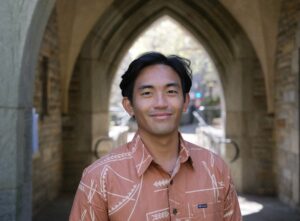 Daniel Torres Balauro is a senior at Swarthmore College majoring in Environmental Governance & Policy, representing the US Territory of American Samoa. Daniel is inspired by his Pacific community, and is passionate about addressing issues at the nexus of human rights and climate change, with a focus on US-Affiliated Pacific Islands (USAPIs). 
He is the founder of American Samoa Climate Action Network, an island-based initiative aiming to strengthen the roles of USAPIs within federal environmental affairs. Through it, Daniel has proposed policy focused on climate resiliency in the Insular Areas, and established a fellowship empowering Pacific youth to engage in climate policy. Along that, Daniel also works as a Strategic Operations Advisor at Inclusive America, spearheading a national grassroots campaign, #PledgeForDiversity, which united a bipartisan coalition of 200+ organizations and former Cabinet members to advocate for DEI in government. Previously, Daniel served as a COP26 Delegate in Glasgow, Scotland, President's Sustainability Research Fellow (focusing on International Climate Engagement & Indigenous Interconnections), and a Research Assistant at Georgetown's Institute for the Study of International Migration. 
Daniel's goal is to increase awareness of the socio-political and cultural challenges faced by USAPIs (and other Pacific island nations), develop community-led climate policy, and help contribute to achieving climate and racial justice.
Sabine von Mering
Professor of German and Women's, Gender, and Sexuality Studies and Director of the Center for German and European Studies, Brandeis University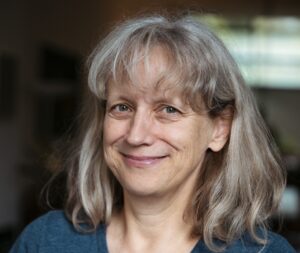 Sabine is a university teacher and climate organizer. Since 1998 she has been at Brandeis, where she has co-authored the past three climate action plans, and where she teaches a course on  Human/Nature: European Perspectives on Climate Change, which highlights ways the humanities and humanistic social sciences must contribute to addressing the climate crisis. 
Her English translation of German Fridays-for-Future-Co-Founder Luisa Neubauer and Alexander Repenning's book Beginning to End the Climate Crisis. A History of Our Future was published by Brandeis University Press on March 30, 2023. She is currently co-editing the Routledge Handbook of Grassroots Climate Activism. 
In her role as Director of the Center for German and European Studies at Brandeis she has organized about 100 webinars about climate change and many other topics.
Sabine has been a volunteer leader with 350MAss for many years and also works with NoCoalNoGas. In May 2021 she completed the Climate Reality Project training. 
Sabine grew up on the car-free North Sea island of Langeoog in Germany, she now lives in Wayland, Massachusetts. 
She completed her first degree in English and German Language and Literature at the universities of Cologne and Göttingen before spending a year at Reed College as German Language Scholar and then obtaining a Ph.D. in German with a designated emphasis in feminist inquiry at the University of California Davis.  She can frequently be seen at climate protests wearing her signature polarbear avatar. 
Harrison Watson
Conservation and Justice Fellow, American Bird Conservancy; PhD Candidate, Princeton University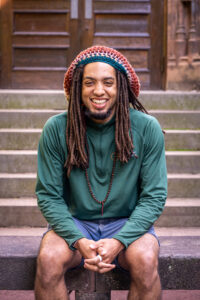 Harrison Watson is a PhD Student at Princeton University and an inaugural Conservation and Justice fellow with the American Bird Conservancy. 
His research at Princeton focuses on understanding the role large animals like Elephants, Giraffes, and Hippos play in cycling carbon in savannas in Sub-Saharan Africa. His research with the American Bird Conservancy is on understanding how pesticides used primarily in the Agricultural industry affect birds and migrant farmworkers. 
The aim of his research with both groups is to cultivate an understanding of the world's most immediately threatened groups so that he may communicate both their importance as well as collaborate with others to develop natural solutions.
To this end Harrison also works with an interdisciplinary group of scholars at Princeton to develop policy recommendations aimed at conserving natural landscapes across the most densely populated state in America, New Jersey. He also works with the policy team at the American Bird Conservancy to advocate for changes in legislation that protect wildlife and farmworkers from the deleterious effects of pesticides. 
He also works as an editor for the youth-led international science communication non-profit Greenzine and volunteers as an advisory board member with the Planet Forward environmental storytelling platform in D.C.