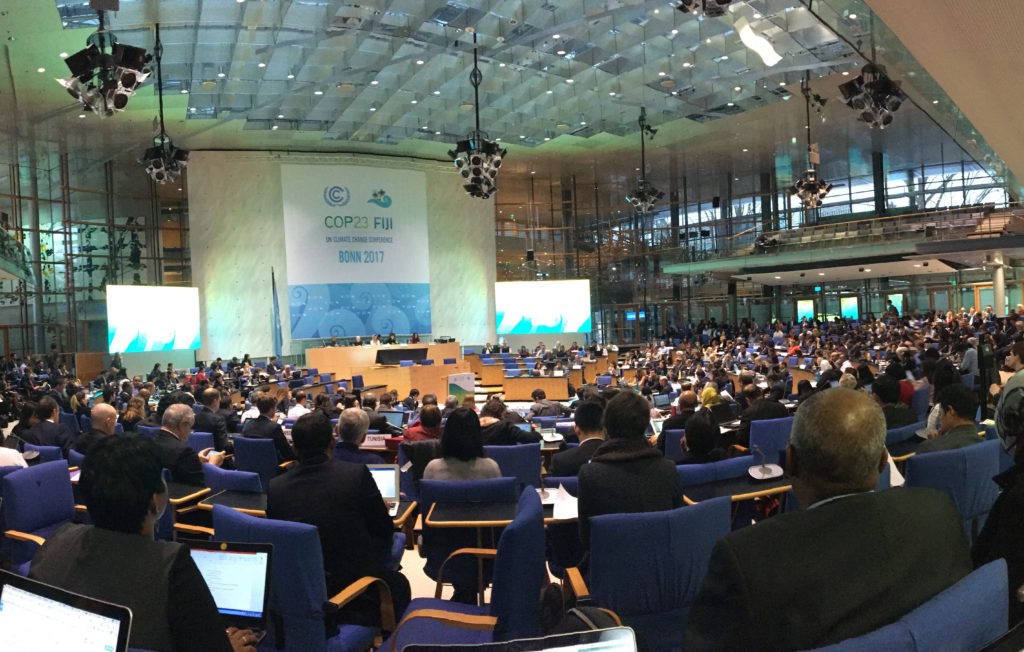 2017 has proven to be a pivotal year in the global human struggle to adequately reduce emissions from heat-trapping gases that fuel climate change. The human and political aspect of this struggle is perhaps most palpable here in the United States. Two years ago, representatives from all nations of the world gathered in Le Bourget Airport outside of Paris to adopt the Paris Agreement on climate change. This is the most ambitious international agreement in history, launching a regime designed to intentionally re-direct the global economy from one reliant on perpetual growth fueled by carbon pollution, to a low-carbon and climate resilient economy geared toward sustainable development. On December 12, 2017, President Macron of France hosted a two–year anniversary in Paris, with more than 50 world leaders. The anniversary gathering focused on ways to accelerate this transition, with a particular emphasis on shifting financial flows which already top $1 trillion per year. At the One Planet Summit, there was a renewed commitment primarily on finance, including an announcement by more than 220 investors with $26.3 trillion in assets under management that are pushing the largest and most carbon polluting businesses to align their goals with those of the Paris Agreement.  Donald Trump was not invited to the anniversary.
Last month, representatives from 195 nations and roughly 20,000 delegates from across the world gathered for over a fortnight in Bonn, Germany, for the 23rd annual Conference of the Parties to the United Nations Framework Convention on Climate Change (COP-23). This was the second COP since the adoption and subsequent entry-into-force of the monumental Paris Agreement. It is also the first COP since the inauguration of President Donald Trump. In climate change news, COP-23 was characterized by two narratives: one of an increasingly warming world compelling all nations and actors to be increasingly committed to building irreversible momentum toward a low-carbon future catapulted by the Paris Agreement; and one of wrestling with what has become an American contradiction playing out on the global stage. The former calls for more data and action, and the latter is one on which the Yale Program on Climate Change Communications (YPCCC) can offer unique insight.
Prior to Donald Trump's June 1 announcement that he intends to pull the U.S. out of the Paris Agreement, our spring 2017 survey found that 69% of Americans feel the U.S. should stay in the Agreement. Also, majorities in every U.S. state support continued U.S. participation. Still, Trump failed to acknowledge popular opinion. At COP-23, YPCCC released poll results showing that the number of Americans who support continued U.S. involvement in the agreement has actually gone up by 8% since Trump's announcement: 77% of Americans support U.S. participation in the Paris Agreement. A full 64% of Americans also said that they directly disagree with Trump's decision to withdraw the U.S. from the Agreement between all nations of the world to prevent global warming from exceeding 2 degrees Celsius and to achieving a balance of anthropogenic emissions and sinks in the second half of this century.
Cities, regions, companies, investors, and civil society, collectively called non-Party stakeholders, have taken center stage, over the course of the year and at COP-23. This trend is more acute here in the U.S. than anywhere. In a clear rebuke to the Trump administration, a more than 2700-strong coalition (mapped by DataDrivenYale) of U.S. states, counties, cities, businesses, and universities pledged "We Are Still In" for continued action on climate change and the Paris Agreement. This coalition now represents over half of the U.S. economy. Sub-national governments representing more than 200 million Americans (62% of the U.S. population) have now committed to upholding the objectives of the Paris Agreement. These and other commitments to climate action were trumpeted at COP-23 by the U.S. Climate Action Center's steady stream of programming from adamant and dedicated American governors, mayors, CEOs, and thought leaders who recognize the enormous economic opportunity and moral obligation to meaningfully act on climate change.
Bonn reinvigorated the role that sub-national actors (cities and regions)  and non-State actors (companies, investors and civil society) play in the struggle to reduce emissions. This trend was supercharged by the "America's Pledge" contingent, which put out a report tracking U.S. non-Party action. While the Trump White House's planned event promoting coal was interrupted by fervent protests, the U.S. Climate Action Center, which was not sanctioned by the Trump Administration, functioned as a bustling haven of collaborative activity. This contradiction is consistent with Trump's endemic tendency to shun popular opinion in favor of policies that seem designed solely to undermine the Obama legacy. For example, Trump's own EPA finds that the Clean Power Plan will prevent 4,500 premature deaths per year by 2030. Yet he is intent on rolling back these first-ever limits on carbon pollution from power plants, even though 85% of Democrats and 57% of Republicans support the limits.
The role of non-Party stakeholders will again be on full display when California Governor and UN Special Envoy for States and Regions Jerry Brown hosts the Global Climate Action Summit in San Francisco next September. The resulting announcements and progress delivered at the Summit will be a central input to the 2018 "Talanoa' Dialogue" which will take stock of global progress toward the objectives of the Paris Agreement. This process is designed to help prepare countries with the evidence base needed to develop their new targets for the next cycle of Nationally Determined Contributions, due by 2020. As the world prepares to discuss its first climate report card under the Paris Agreement at COP-24 next year, in addition to finalizing the 'Paris rulebook', the role of non-Party actors in enhancing climate ambition is more important than ever. COP-23 sent a message to the world: we need more climate action, investment, policy, and data from all actors to accelerate the transition to a low-carbon and climate-resilient economy. Based on the robust coalitions of supportive U.S. States, cities, counties businesses, universities, organizations, and a preponderance of American voters, it's clear that most of the United States is receptive to the message.