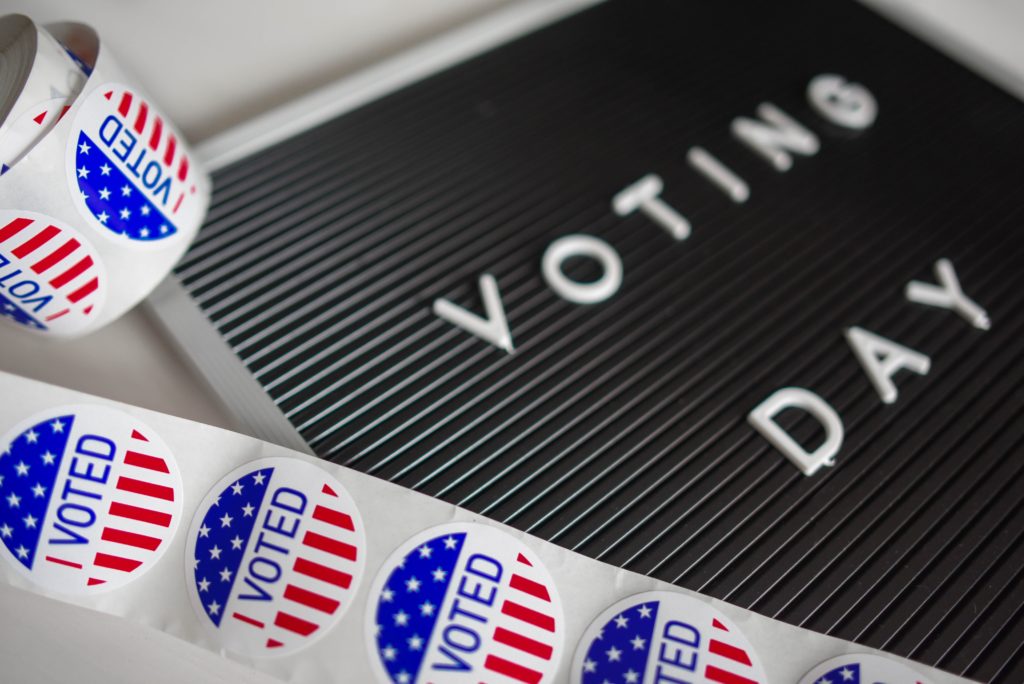 Though the focus of the recent midterm elections was largely on potential shifts of power in the U.S. House and Senate, a number of states had environment and energy issues on their ballots. While these state-level initiatives create less national frenzy than Congressional races, their outcomes are significant both in their environmental impacts and as gauges of public opinion. In some cases, state ballot initiatives align with YPCCC research questions, allowing us to see how our survey results compare to actual election results.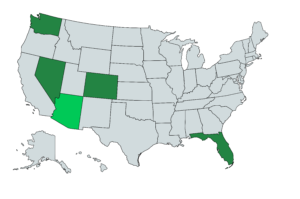 Arizona
In a state where 84% support funding researching into renewable energy,[1] voters decided against Proposition 127 which proposed faster, more ambitious increases to Arizona's renewable portfolio standards (RPS). Under current law, Arizona must get 15% of its energy from renewable sources by 2025.[2] Proposition 127 would have set a RPS of 28% by 2025, ratcheting up to 50% by 2030.[3] Proposition 127 was also a very highly-funded issue: $54 million in campaign dollars went into the campaign.[4]
After all the debate and spending, the measure was defeated by a large margin, with 69.8% voting no and 30.2% voting yes.[5] This outcome is at odds with our findings that 63% of Arizonans support requiring utilities to produce 20% electricity from renewable sources, even if it costs their household an additional $100 per year.[6] One explanation is the aggressive opposition campaign. Arizona Public Service (Arizona's largest utility company), gave $30 million to the Arizonans for Affordable Energy PAC; this group ran ads claiming that Proposition 127 would cost households an additional $1,000 per year.[7]
Despite the outcome, Arizonans might see more renewables in the future. State utility regulators could still push for a higher RPS – one commissioner, Andrew M. Tobin, supports a goal of 80% renewables by 2050.[8]
Colorado
Colorado voters had the opportunity to decide on Proposition 112, the Minimum Distance Requirements for New Oil, Gas, and Fracking Projects Initiative. The measure would have established a minimum required distance of 2,500 feet between new oil, gas, or fracking wells and any "occupied buildings" or "vulnerable areas."[9], [10] Proposition 112 was defeated, 56.5% to 43.5%.[11]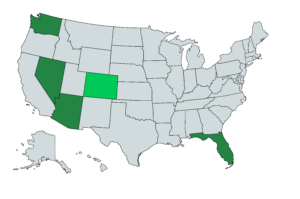 Opponents portrayed the initiative as an environment/economy trade-off, saying that it would restrict new oil and gas drilling to the point that it would damage Colorado's economy and eliminate jobs.[12] However, 70% of Colorado adults say that environmental protection is more important than economic growth.[13] The voting outcome is again likely a result of campaign spending. A major group in support of Proposition 112 raised $1 million, compared to an opposing group's $35 million.[14]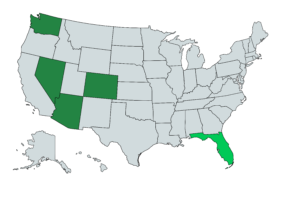 Florida
Florida Amendment 9, to ban offshore drilling (and ban vaping indoors), struck a win for renewable energy. The amendment, which passed with a vote of 68.7% in support and 31.3% against, bans oil and gas drilling in all state waters.[15] Though Florida already had some state regulations against offshore drilling, a constitutional amendment strengthens these protections.[16] In this case, the votes align with our research findings: YPCCC surveys have shown that 54% of Floridian adults oppose expanding oil and gas drilling off the US coast.[17]
Nevada
Nevadans voted on two environmental measures this election: Question 3, a proposed amendment entitled "Changes to Energy Market and Prohibit State-Sanctioned Electric-Generation Monopolies", and Question 6, the Renewable Energy Standards Initiative. Our research finds majority support among Nevadan adults for a number of energy policies, including funding research into renewable energy (84%), requiring utilities to produce 20% electricity from renewable sources (62%), and supporting tax rebates for efficient vehicles or solar panels (81%).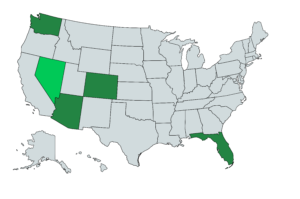 Question 3 would have established "an open, competitive retail electric energy market," allowing consumers to select their own utility provider.[18] It was a widely-debated issue in the state, with Question 3 supporters saying that it would result in lower electricity rates, and opponents saying Nevadans would end up paying more.[19] The measure failed, with 67% voting against and 33% voting in support.[20] In 2016, Question 3 actually passed, but Nevada requires constitutional changes "to pass in two successive even-numbered election years."[21] This year's defeat means that Question 3 will not go into effect. A "Yes on 3" campaign manager suggests that large-scale fundraising by the opponents – about $63 million – was one reason for the outcome.[22]
Question 6, like the unsuccessful Proposition 127 in Arizona, introduces faster progress toward larger RPS goals. Previously, Nevada's RPS was 25% renewables by 2025. Under the new initiative, the RPS is 34% by 2025 and 50% by 2030.[23] This aligns with our research showing support for requiring renewable energy sourcing by utilities. The measure passed with 59.3% support[24] – a number very close to our own 62% statistic. If it passes again in 2020, Nevada's new RPS will be effective as of 2022.[25]
Washington
For the second election in a row, Washingtonians had the opportunity to vote on a carbon tax measure. Initiative 1631, the Carbon Emissions Fee Measure, would have establishd a multi-part carbon taxation scheme: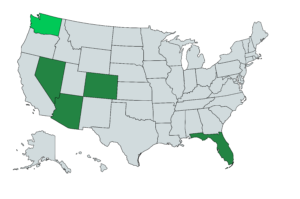 Carbon fee of $15/ton, starting in 2020, levied on big emitters
Fee increase of $2/year, until Washington achieves greenhouse gas reduction goals
Revenue used for state environmental initiatives
73% of Washington adults believe global warming is happening. 78% support regulating CO2 as a pollutant, and 69% support taxing fossil fuel companies and using the revenue to reduce other taxes (such as income tax) by an equal amount.[26] Though none of these policies align perfectly with Initiative 1631, our research still demonstrates broad support for pro-environment, pro-climate policies in Washington. However, the measure was defeated, 56.4% to 43.6%.[27]
Similar to the above state ballot questions, large amounts of money were spent on the campaign — in this case, the from oil industry opponents.[28] The Seattle Times described it as "the biggest ballot-measure spending spree in state history."[29] Despite the loss, supporters are looking ahead for new opportunities, including state legislation.[30]
With our research showing majority support for many similar policies in Arizona, Colorado, and Washington, these defeats at the ballot box may appear puzzling at first glance. But our surveys cannot predict how public opinion will be influenced by advertising dollars poured into fighting pro-climate and clean energy proposals. In fact, the success of these advertising campaigns illustrates how important communication often is. As post-election analysis continues over the coming days and weeks, other explanations for why these measures failed may emerge. Still, the passage of renewable energy measures in Nevada and Florida may serve as models for future legislation or as examples to help illuminate results in other states.
 

[1] http://climatecommunication.yale.edu/visualizations-data/ycom-us-2018/
[2] https://www.abc15.com/news/state/arizona-proposition-127-fails-keeping-renewable-energy-requirements-in-place
[3] https://ballotpedia.org/Arizona_Proposition_127,_Renewable_Energy_Standards_Initiative_(2018)
[4] https://www.washingtonpost.com/energy-environment/2018/11/07/ballot-measures-taking-aim-climate-change-fall-short/?utm_term=.0de7b195700c
[5] https://www.nytimes.com/interactive/2018/11/06/us/elections/results-arizona-elections.html
[6] http://climatecommunication.yale.edu/visualizations-data/ycom-us-2018/
[7] https://www.washingtonpost.com/energy-environment/2018/11/07/ballot-measures-taking-aim-climate-change-fall-short/?utm_term=.0de7b195700c
[8] https://www.washingtonpost.com/business/economy/the-hottest-fight-in-american-politics-arizonas-smackdown-over-solar-power/2018/11/02/9f761030-d3dc-11e8-8c22-fa2ef74bd6d6_story.html?utm_term=.f4eb56eb230b
[9] https://www.washingtonpost.com/energy-environment/2018/11/07/ballot-measures-taking-aim-climate-change-fall-short/?utm_term=.0de7b195700c
[10] https://ballotpedia.org/Colorado_Proposition_112,_Minimum_Distance_Requirements_for_New_Oil,_Gas,_and_Fracking_Projects_Initiative_(2018)
[11] https://www.nytimes.com/interactive/2018/11/06/us/elections/results-colorado-elections.html
[12] https://www.washingtonpost.com/energy-environment/2018/11/07/ballot-measures-taking-aim-climate-change-fall-short/?utm_term=.2149acdcfc78
[13] http://climatecommunication.yale.edu/visualizations-data/ycom-us-2018/
[14] https://www.washingtonpost.com/energy-environment/2018/11/07/ballot-measures-taking-aim-climate-change-fall-short/?utm_term=.2149acdcfc78
[15] https://ballotpedia.org/Florida_Amendment_9,_Ban_Offshore_Oil_and_Gas_Drilling_
and_Ban_Vaping_in_Enclosed_Indoor_Workplaces_Amendment_(2018)
[16] https://www.vox.com/science-and-health/2018/11/5/18055844/florida-amendment-9-vaping-offshore-drilling-midterm-election-results
[17] http://climatecommunication.yale.edu/visualizations-data/ycom-us-2018/
[18] https://ballotpedia.org/Nevada_Question_3,_Changes_to_Energy_Market_and_Prohibit_State-Sanctioned_Electric-Generation_Monopolies_Amendment_(2018)
[19] https://www.ktnv.com/news/national/democracy-2018/election-results-2018-nevada-ballot-questions-1-6
[20] https://www.nytimes.com/interactive/2018/11/06/us/elections/results-nevada-elections.html
[21] https://www.greentechmedia.com/articles/read/midterms-2018-mixed-results-for-the-renewable-energy-agenda#gs.0RAleJg
[22] https://lasvegassun.com/news/2018/nov/07/nevada-ballot-questions-voters-reject-breaking-up/
[23] https://ballotpedia.org/Nevada_Question_6,_Renewable_Energy_Standards_Initiative_(2018)
[24] https://www.nytimes.com/interactive/2018/11/06/us/elections/results-nevada-elections.html
[25] https://www.ktnv.com/news/national/democracy-2018/election-results-2018-nevada-ballot-questions-1-6
[26] http://climatecommunication.yale.edu/visualizations-data/ycom-us-2018/
[27] https://www.nytimes.com/interactive/2018/11/06/us/elections/results-washington-elections.html
[28] https://www.theatlantic.com/science/archive/2018/11/washington-state-votes-down-i-1631-major-climate-bill/575131/
[29] https://www.seattletimes.com/seattle-news/politics/voters-rejecting-carbon-fee-in-first-day-returns/
[30] https://www.seattletimes.com/seattle-news/politics/voters-rejecting-carbon-fee-in-first-day-returns/