As Democratic presidential candidates head to Ohio for the October 14th debate, we are pleased to share the results of a new poll of registered voters in the state. We find that Ohio voters support a broad array of policies to address climate change impacts and increase production of renewable energy in the state.
More than six in 10 (63%) Ohio voters think developing more renewable energy sources, such as wind and solar, should be the most important priority for addressing Ohio's energy needs, significantly more than those who say building more natural gas (13%) or nuclear (7%) power plants should be the top priority.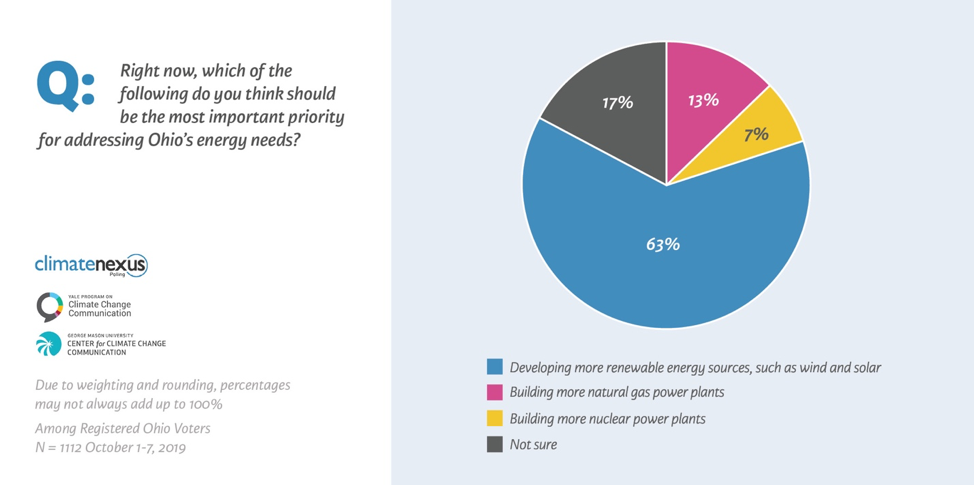 A majority of Ohio voters (54%) oppose HB 6, the recent legislation in Ohio that subsidizes two nuclear power plants and two coal plants through a monthly surcharge on electric bills, while also eliminating the state's renewable portfolio standard; just 31% support the legislation.
Additionally, about two-thirds (68%) of Ohio voters say the state should eliminate its 2014 wind setback law, which requires wind turbines to be set back at least a quarter of a mile from the nearest property line and has resulted in fewer wind turbines being built in Ohio than in neighboring Indiana, Michigan, and Illinois.
Meanwhile, more than three-quarters (76%) say expanding the state's renewable portfolio standard to require 100% of electricity in the state be generated by renewable sources by 2050 will have a positive impact on the state's environment, and nearly seven in 10 (69%) say this policy will improve Ohioans' health. Majorities believe a 100% renewable portfolio standard in Ohio will improve the economy (60%) and have a positive impact on rural and farming communities (56%), while pluralities believe the policy will lower the unemployment rate (47%), improve wages (47%), lower electricity costs (45%), and benefit communities of color (37%).
More than six in 10 (63%) Ohio voters support government action to address climate change. Not only do Ohio voters support climate action, but Democrats in the state say it will be key to their presidential vote. When asked to identify the two most important issues to their vote for president in 2020, Ohio Democratic and Democratic-leaning voters are most likely to choose health care (45%), climate change (25%), and the economy and jobs (24%). Fourteen percent of voters overall in the state say climate change is one of the two most important issues to their vote for president next year.
These and many more interesting findings, as well as the survey methodology, are available in the summary memo and the poll toplines.