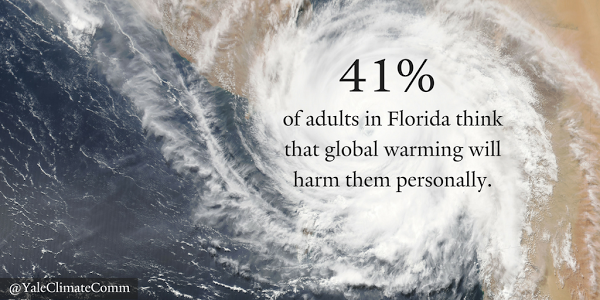 Hurricane Irma, one of the strongest Atlantic hurricanes recorded in recent history, is making its way toward the US just as we are starting to understand the enormity of the Hurricane Harvey aftermath in Texas. Although Irma's path is still uncertain, weather forecasters are predicting that the hurricane will hit Florida this weekend. Governor Rick Scott has already declared a state of emergency, and Miami-Dade County closed its county offices and schools on Thursday and Friday.
Hurricanes Harvey and Irma are a taste of what's to come as global warming continues. Warmer air, which holds more water vapor, and increasing sea surface temperatures, which fuel more intense storms, create ideal conditions for stronger hurricanes. Thus more intense hurricanes are one example of how Florida residents might be personally affected by global warming.
Our recently updated Yale Climate Opinion Maps offer insights about Floridians' current climate change beliefs, risk perceptions, and policy support, and the potential for change in the wake of Irma. As of 2016, Floridians fall right in line with the national average on their belief in global warming: 70% believe it is happening. Yet, although much of the state is at risk from sea level rise and/or hurricanes, fewer than half (41%) of Floridians believe that global warming will harm them personally, and only slightly more than half (57%) are worried about global warming. At the same time, large majorities of Floridians support climate policies. 82% support funding more research into renewable energy sources and 75% would like to regulate carbon dioxide as a pollutant.
Dr. Anthony Leiserowitz, Director of the Yale Program on Climate Change Communication, says: "It's a pretty simple story – a majority of Floridians believe global warming is real and human caused. They also support a variety of policies to address it. However, fewer perceive it as a personal risk. That could change in the wake of Irma, if climate scientists can attribute some of Irma's intensity to global warming, and if the media widely reports on the links, some people will connect the dots between extreme weather and climate change."
Time will tell if Hurricane Irma will increase climate change risk perceptions in Florida. More immediately, however, warnings from weather forecasters, government officials, and other trusted authorities about the dangers of this storm and encouraging those most at risk to evacuate will be critical to protecting the safety of Florida residents.
Interested in local climate change opinions? Check out the Yale Climate Opinion Maps to see how climate change beliefs and policy support vary at state and local levels across the U.S.