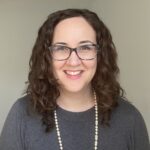 Sara leads Yale Climate Connections, YPCCC's independent and nonpartisan climate news service. She joined the editorial team in 2016, where she oversaw rapid growth in listenership to the team's national radio program, created the "Ask Sara" climate advice column, and led the launch of Yale Climate Connections en español before her promotion to editor-in-chief in 2023.   
Previously, her reporting on environmental issues appeared in National Geographic, HuffPost, Scientific American, Environmental Health News, and Grist, among others. She served as a member of the faculty at the University of North Carolina-Chapel Hill's journalism school, where she led courses in environmental journalism and media entrepreneurship. Sara holds a master's degree in journalism and a bachelor's degree in environmental studies, both from UNC-Chapel Hill.
She enjoys working closely with writers to tell compelling stories about the changing climate, with the ultimate goal of improving public understanding and engagement with climate change causes, impacts, and solutions.