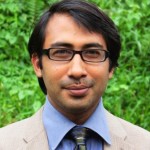 JT (Jagadish Thaker) is a Postdoctoral Fellow in the Department of Communications and New Media, National University of Singapore. He recently received Ph.D. from George Mason University's Health and Strategic Communication program, for research on the role of collective efficacy—people's perceptions in their group's collective abilities—in enhancing community's adaptive capacity to climate change impacts.
His primary research interests are in the fields of health communication, climate change communication, media content analysis, and strategic communication campaigns.  He has served as a Graduate Research Assistant on a National Science Foundation grant, examining American broadcast meteorologists' best practices to communicate climate science.  He also worked with Dr. Anthony Leiserowitz (Yale University) to conduct and analyze the first national sample survey of Indians' beliefs, attitudes, and policy support about climate change, and other sustainability issues.  A paper that he co-authored won the top student paper award in the Applied Communication Division in National Communication Association (NCA) conference, San Francisco, 2010.
Prior to his Ph.D. degree, he also worked as English compere in All India Radio, and as a copy-writer in many advertising agencies, before a brief stint at teaching English in Nizam College, his alma mater.  He also holds a master's degree in English literature from University of Hyderabad.